The Unofficial Cynthia Rothrock Home Page
Periodically revamped for your delectation. Last effort: August 1998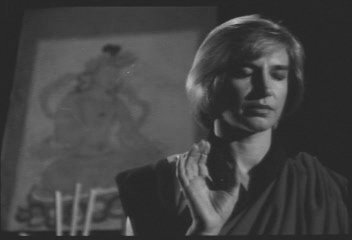 Who is Cynthia Rothrock?
Cynthia Rothrock has been described as the "Queen of B-Movie Kung Fu," and she has the credentials: she was Five-Time Undefeated World Karate Champion in Forms and Weapons (1981-1985), and has more than thirty films under her belt (and counting!). She started making movies for Golden Harvest (Hong Kong's kung fu movie giant) in 1985.

She's not exactly a threat to Meryl Streep as an actress, but she has a winsome, cheerful, genuine quality that makes her captivating. And she could kick Streep's ass if she wanted to. She's the strong, sincere type!

She's 5' 3" tall. She was born in Delaware, grew up in Pennsylvania, and now lives in California (of course!).

There is an official (snail-mail) fan club called Rothrock-in, on which she apparently keeps a close eye. So if you're looking for merchandise, or you want to ask her a question, check them out. Believe it or not, I've never actually spoken to the woman myself, nor do I have her phone number or address. So please, don't write to me about that kind of stuff, okay?
Which movies has she graced?
Okay, this is my best guess at a filmography. Anyone who knows about a movie she's in that isn't on this list, please e-mail me: tigger@interlog.com
Angel, the Kickboxer
Best of the Martial Arts Films, The AKA The Deadliest Art (1990): "compilation" tape--excerpts only
City Cop (1989) (HK)
Encyclopedia of Martial Arts, Vol. 1 (1995): narrated by James Hong; CR demonstrates some weapons.
Fast Getaway II (1994)
Fatal Desire AKA Fatal Passion AKA Dark Red (1992)
Fight to Win
Inspectors Wear Skirts AKA Top Squad (1985) (HK)
Irresistible Force (1994)
Lady Enforcer (AKA Blonde Fury?) (HK)
Magic Crystal (HK)
Millionaires Express AKA Shanghai Express (1985) (HK)
Paper Dragons
No Retreat, No Surrender II AKA Raging Thunder (HK)
Prince of the Sun
Righting Wrongs AKA Above the Law (HK)
Righting Wrongs II: Blonde Fury AKA Lady Reporter AKA Female Reporter AKA Above the Law II (1989) (HK)
24 Hours to Midnight (1992)
Yes, Madam AKA In the Line of Duty: The Super Cops AKA Police Assassins 2 (HK)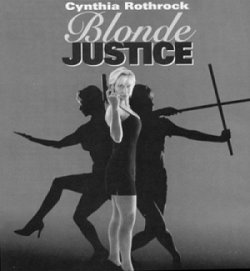 Trivia Tidbit: This is a poster you'll never see. This movie is now called "Sworn to Justice", because "Blonde Justice" is also the name of a fairly famous porn film--oops! It has had its premiere, and the audience apparently loved it! Good production values, an impressive acting performance from CR, great fight scenes (Hong Kong fight co-ordinators!!), and an original and, by all accounts, erotic seduction scene.
So, when can you or I see it? I don't know. Can anybody tell me if it has surfaced on video yet?

---
Gossip? Rumours? Actual facts that aren't here? Please, let me know about it: tigger@interlog.com
---

These pages courtesy of InterLog Internet Services, which is simply the greatest Internet service provider there is. If you live in the Greater Toronto Area, I strongly urge you to sign up with them.