Preparation


Cleaning Sprues
Submitted by André Boucheré
Wash all sprues in warm water with dish soap and let air dry. This will remove any mould release agent and oils from the moulding process.
Use furniture tack rags for wiping parts prior to painting, this will remove any lint or dust from your parts; this also works for cleaning airbrush glass bottles.


Storing Parts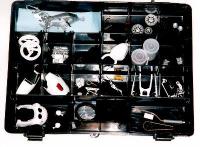 When building a kit I usually clean up all the parts first and store them in a case according to the colour they will be painted. I just make sure I can easily distinguish similar parts. If not, I group the left and right side parts separate.
In the picture, the case contains ALL the prepared parts for the Tamiya 1/12 Yamaha FZR750R (OW01). I also use film canisters to hold very small parts. The case also has a transparent lid to protect the parts and has adjustable divider_r1.gifs. The case also allows me to conveniently stack several kits in progress.