Latest




TORONTO, CANADA: THQ World Supercross GP
November 20, 2004


THQ World Supercross GP is a 17-round global series that is produced and promoted by Clear Channel Entertainment and Dorna Off Road S.L. Riders must compete in the international rounds to be eligible to win the world championship.
At the Toronto SkyDome on Saturday December 04, 2004.


TAMIYA: Some new XF, AS, and TS colours
November 16, 2004
Some colours are for military subjects, but naturally they could also have uses for other subjects.
| | |
| --- | --- |
| AS-27 | Gunship Grey 2 (F-16CJ Fighting Falcon) |
| AS-28 | Medium Grey (F-16CJ Fighting Falcon) |
| TS-70 | Olive Drab(JGSDF) |
| TS-71 | Smoke |
| TS-72 | Clear Blue |
| TS-73 | Clear Orange |
| TS-74 | Clear Red |
| TS-75 | Champagne Gold |
| TS-76 | Mica Silver |
| XF-72 | Brown (JGSDF) |
| XF-73 | Dark Green (JGSDF) |
| XF-74 | Olive Drab (JGSDF) |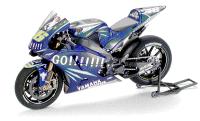 TAMIYA: Yamaha YZR-M1 '04
November 14, 2004
Tamiya all new GP bike is now available. The Yamaha tuning forks are supplied as metal transfers to better represent the logos. Also, the kit uses "Poly caps used for easy damper assembly and cowling attachment." Not sure how the poly cap mounting points will affect the accuracy of the frame. The kit includes decals for bikes #46 V.Rossi and #17 N.Abe. The kit number is 14098 and it costs ¥2,600 (was ¥2,500 when first announced, but ¥2,600 could be a typo on Tamiya's site since its ¥2,500 at Hobby Link Japan).
For more info, check Tamiya's product info page...


AJAX XXIV: Annual Model Contest
October 24, 2004
On Sunday October 31st, the 24th annual model contest will be held in the J. Clarke Richardson Collegiate at 1355 Harwood Ave. N. in Ajax, Ontario, Canada.
This year the "open" judging system, where each model was judged on it's own merit, has been abandoned in favour of numerous categories where entrants compete head-to-head for 1st, 2nd, and 3rd.
Full details in the contest brochure...


AUTUMN: Thought a few might like to see Autumn in Toronto
October 21, 2004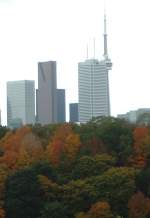 I took a long walk (16km) along the Don Valley ravine in Toronto to take in the autumn colours. The Don Valley is where I ride my mountain bike and my apartment building overlooks the ravine.
Unfortunately, the weather hasn't been the best lately, so I had to settle for a cloudy day with occasional brightening. Hopefully the weather will improve before all the leaves drop off the trees.
Anyway, thought visitors who have never seen autumn colours might like to see some pictures...


CREATEX: An alternative to typical hobby paints
September 12, 2004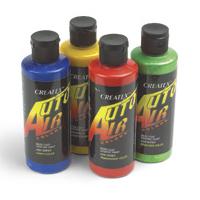 I've always noticed the CREATEX brand of acrylics paints in the art stores. These paints are popular with the t-shirt painting artists.
They have a paint formulation called Auto Air Colours. These are intended for automotive customizing and are a base coat, clear coat system. "The colors dry to a flat, even finish without an "orange peel" look and form a strong, permanent bond with the surface they are applied to."
Lots of interesting colours to choose from. Very economical to at just $7-10Cdn for a 4oz bottle.


TAMIYA: Some more new 1:12 racing bikes
September 10, 2004
Yes, one is another Honda, but not another RC211V. Kit 14099 will be a re-issue of kit 14055, but rather than Rothmans marking, the kit will include markings for K.Kinoshita's #3 ride.
The big news is an all new FIM GP1 bike, the much rumoured Yamaha YZR-M1. The kit will include decals for bikes #46 V.Rossi and #17 N.Abe. Kit number will be 14098 and it will cost ¥2,500. No word on a release date, but should be before year's end in Japan.


TAMIYA: A couple of more re-issues
September 10, 2004
Here are a couple of more re-issues of older popular kits.

| | | | |
| --- | --- | --- | --- |
| 14014 | Honda RS1000 Endurance Racer | ¥1,600 | Sept 9th |
| 14032 | Honda NS500 Grand Prix Racer | ¥1,600 | Sept 7th |


IKEA: The 2005 Catalogue is here!
August 24, 2004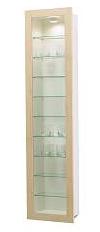 IKEA catalogue? Who cares? Well, with every new catalogue comes the chance that IKEA might have a new audio storage cabinet that would make a good affordable display case for models.
For 2005, the BERTBY wall cabinet returns after a four year absence. BERTBY is 170cm H x 42cm W x 19cm D and has nine glass shelves that have a 3kg capacity per shelf. With a light installed in the top, the whole interior can be lit. And a glass door. With some weather stripping along the cabinet's front edge, a virtually dust free environment can be achieved. BERTBY sells for $145Cdn (about $115US). Even better, it is $4 less than it was in 2001 and $20 less than in 2000. (Oops, check out this BERTBY safety notice)
Hopefully the KRYSS cabinet, my personal favourite at $99, will make a return in 2006.