2001




A New Item for the Toolbox
December 11, 2001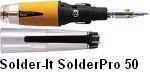 I picked up a neat little torch/soldering iron today while doing some Christmas shopping. Its the Solder-It SolderPro 50 butane torch/soldering iron. The unit has a 7ml fuel tank for butane and you fill the tank using one of those cigarette lighter refill canisters.
This is great for doing the occasional soldering job on brass tubing when scratch building. Much better than the large propane blow torches. More info on the unit at the Solder-It site...


Time for a Re-issue?
December 6, 2001


I get a lot of e-mails from people looking for either a model of a specific motorcycle or wondering if I know where a particular kit can be bought. Surprisingly, the most searched for kits are the Tamiya 1/12 Yamaha Beluga 80 (#14005) and Tamiya 1/6 Honda Dax Export 70 (#16002).

With so many inquiries about these two kits, maybe it is time for Tamiya to start thinking about re-issuing these two kits. And any others that weren't re-issued in the last four or five years.


First There was the Clear Views
December 4, 2001
In recent months Tamiya has offered several Clear View kits of just about any type modelling subject you can name: GT1, F1, motorcycle and aircraft. Now they are offering motorized aircraft and sound effects. I can see it now, a 1/12 GP500 bike with a rider and having it spin the wheels and rev engine!


The Beginning of the End
November 30, 2001
I hope you're sitting down. Speedvision, soon to be the SPEED Channel, is about to start the mutation from a general motorsports channel to an all NASCAR channel. They will be launching NASCAR TV on Feb 11, 2001 and this will consist of NINE hours of NASCAR only programs from 3pm ET to midnight on weekdays. I hope everyone owns a VCR so you can tape the good stuff while you're at the office or in class. Read the complete Speedvision article...


The Hobby Show
November 9, 2001

This is Canada's largest hobby show of the year with all types of hobbies being represented. This year's show was held on Nov. 2, 3, 4, 2001 in the usual location in the International Centre in Mississauga, Ontario. The club I belong to, Group 25, was there and here are some pictures of our club's booth and members' models.


Coaster's Motorcycle Modelling PDA Edition
October 20, 2001
I finally got around to doing an update to the PDA edition. I'm still trying to find a way to maintain both sites with as little duplication as possible.

If you have a Palm, Visor or another PDA and use AvantGo (http://www.avantGo.com), then you can add Coaster's Motorcycle Modelling to your list of channels. Add the channel...


What to use for display cases?
October 15, 2001


I've been looking for a long time for suitable display cases for my 1:12 motorcycles models. I found a couple of great audio CD cabinets at IKEA. One called the KRYSS cabinet and the other the BERTBY. I picked up four black KRYSS cabinets since it can hold twenty to twenty-five 1:12 models on it's five

shelves. The BERTBY cabinet can easily hold twenty on it's ten shelves. If you don't have an IKEA store near you, check out audio storage cabinets in your local furnishing stores.
Here is what the KRYSS looks like with my models...


Will Tamiya kit Honda's new RC211V powered GP1 Bike?
September 22, 2001


In Paris, Honda unveiled their new GP1 bike for the 2002 racing season, with the RC211V engine. If you weren't aware of it, 2001 is the last year for the GP500 series. The FIM GP500 (2-stroke 500cc) formula will be replaced with the FIM GP1 (4-stroke 1000cc) formula. Honda's new RC211V is a 990cc, V-5, 4-stroke that can slip into Honda's existing GP500 frame. So that would be a natural modification to Tamiya to make with their existing NSR500 kit. Honda Racing Corporation (HRC) will have an all new frame for their new RC211V engine. Hopefully Tamiya will give us an RC211V powered GP1 bike sometime in 2002.
You can view Valentino Rossi's walk around tour of the new bike at the Eurosport web site.
For more about the RC211V engine, read this Motor Cycle Daily article.


Aoshima 1:12 Yamaha Majesty SG03J '01


August 23, 2001
Aoshima have announced another kit of the Yamaha Majesty SG03J, this time in red for the 2001 model year. The kit, #028858, will be available in September and cost 1,500¥.
There are a few others coming in September as well:

028964
GPz400F (Lime Green)
1,500¥
"We Machine" Great Runner Series
020753
Zepher
1,800¥
020760
CBX400F
1,800¥


Aoshima's new 1:12 motorcycle kits revealed

Pictures of Aoshima's Yamaha Majesty SG03J and Kawasaki Z400GP on Aoshima's new release page. There is also a V-Max conversion with figure from a Japanese Anime show.


Another new 1:12 bike from Tamiya


July 10, 2001
This time we'll be getting Honda PONS NSR500 West Colour '01 as kit #14087. The new NSR will not have the tobacco logos. But, a few months ago Studio 27 has announced that they will be releasing a 'West' decal sheet for the NSR500. Release date is August 29, 2001 and will be 2,200¥


Two new colours from Tamiya
With the release of the new 1/32 Mitsubishi A6M5 Zero Fighter (Zeke), Tamiya released a couple of new colours in the Acrylic, Acrylic Mini, Enamel and AS spray. Who knows, they might have a use on motorcycle models.
| | |
| --- | --- |
| XF-70 | Dark Green 2 (IJN) |
| XF-71 | Cockpit Green (IJN) |
| AS-21 | Dark Green 2 (IJN) |


Tamiya TS-53 Repsol Deep Metallic Blue


Tamiya's 'Limited' NSR500 Repsol '99 Deep Metallic Blue has become a standard production colour. I assume Repsol Brilliant Orange will also become a regular colour. Unless MS-9 Fluorescent Orange is the same colour. Makes sense since the NSR500 '99 (#14077) is a standard production kit.


Tamiya 1:12 Yamaha YZF-R1 'Full-View'


Tamiya announced that the release date for the kit will July 4, 2001 and will be 2300¥. This is a limited edition kit.


Italeri 1:24 Red Bull Yamaha Racing Truck & Trailer


I managed to get my hands on this kit and its quite impressive. Here are my first impressions of the kit.


New 1:4 Honda Monkey 2001 Special from IMAI
For a cool 58,000¥ you can have a 1:4 scale multi-media kit of the Honda Monkey 2001 Special.
The kit contains resin, white metal and photo-etched parts. The finished model will be approximately 33.2cm long. Available in June 2001.


New 1:12 Yamaha Majesty SG03J scooters from Aoshima


Although they will be snap kits with about 40 parts, they are still pretty neat looking. The Majesty kits are due to be released in July 2001. More info on the 126Km/h+ scooter at Motorcycle Online


| | | |
| --- | --- | --- |
| 028469 | Yamaha Majesty SG03J (white) | 1,500¥ |
| 028476 | Yamaha Majesty SG03J (silver) | 1,500¥ |
And Aoshima joins Tamiya in the Full-View (clear bodies) craze with two Kawasaki kits:

| | | |
| --- | --- | --- |
| 028482 | Kawasaki GPZ900R Ninja (clear) | 2,000¥ |
| 028490 | Kawasaki Z400GP (clear green) | 1,500¥ |


Gunze Sangyo to re-issue High Tech kits
These kits are due to be re-issued in July.

| | | |
| --- | --- | --- |
| G-632 | Tohatsu Rumpet CR50 | 5,000¥ |
| G-633 | Meguro Z7 | 6,500¥ |


New FIM GP500 decals from Studio27
Here is a list of new decal sheets coming from Studio27. No product # or prices available yet. I suspect each sheet set will be 1600¥. For pictures see Studio27's 'New Items' page...
Honda NSR 500 "Marlboro" WGP '98
Honda NSR 500 "Shell" #8 WGP '01
Honda NSR 500 "West" #4/65 WGP '01
Suzuki RGV-gamma "Fortuna" #1/15/33 WGP '01 (also does #18/34 for '00)
Yamaha YZR 500 "Antena 3" #6/10 WGP '01
Yamaha YZR 500 "GAULOISES" # 19/56 WGP '01
Yamaha YZR 500 "Marlboro" WGP '99/'00
Yamaha YZR 500 "Marlboro" WGP '01
Yamaha YZR 500 "Red Bull" #5/41 WGP '01



Poll Question Results
Would you like to see Tamiya release another 1:6 Big Scale motorcycle kit?
| | | |
| --- | --- | --- |
| Choices | Votes | % of Votes |
| No, too big and expensive | 4 | 16.00 |
| Yes, any bike Tamiya chooses | 4 | 16.00 |
| Yes, but only a FIM GP bike | 8 | 32.00 |
| Yes, but only a FIM/AMA SBK bike | 5 | 20.00 |
| Yes, but only a modern fully faired street bike | 2 | 8.00 |
| Yes, but only a modern 'naked' street bike | 0 | 0.00 |
| Yes, but only a classic bike | 2 | 8.00 |


Source for Detail Wiring
I found a couple of great inexpensive sources for detail wiring.

I was at a hobby shop specializing in model railroading and found a product called "Micro-Kable" made by Busch Modellspielwaren in Germany. The wire is solid core and has an O.D. of 0.5mm and comes in 10m lengths for just $3.85CDN. It comes in many colours: grey, green ,red, yellow, orange, purple, etc. This black wire is perfect for throttle and maybe clutch cables (0.5mm in 1:12 = 6mm in 1:1)

Then I was at a sporting goods shop and I was looking through the fishing supplies and the fly tying stuff. I found some black "Ultra Wire" made by UTC in the U.S. The wire looks anodized that must be only 0.2-0.25mm dia. and only $3.00CDN for a spool. Again, other interesting colours to choose from. This wire would be good for 1:12 electrical wiring.


Tamiya Responds to the Poll Results!
Tamiya wasted no time replying to the letter I sent to them. I was pleasantly surprised to see a reply only five. Here is my letter with Tamiya's reply about the What would you like to see as Tamiya's next 1:12 motorcycle release? poll results.


Poll Results
After Tamiya announced the 1:12 Kawasaki ZX-12R Ninja, the members of the Yahoo! Groups MotorcycleModelling groups began to wonder what we would like to see as Tamiya's next 1:12 kit. We conducted a poll and asked the 95 members in our discussion group for their preferences and here are the results:

What would you like to see as Tamiya's next 1:12 motorcycle release? (90 votes total)

Subject

Votes

% of Votes

FIM GP500

12

13.33

FIM SBK

12

13.33

Sport bike

10

11.11

Classic

10

11.11

Any Ducati

8

8.89

Any Honda

7

7.78

Any Suzuki

6

6.67

FIM GP250

5

5.56

Other brand

4

4.44

All Terrain Vehicle (ATV)

3

3.33

Any Kawasaki

3

3.33

Any Harley-Davidson

3

3.33

FIM GP125

2

2.22

Any Yamaha

2

2.22

Motocrosser

2

2.22

Cruiser

1

1.11
In hopes the poll results might influence Tamiya's next kit release, I forwarded them to Tamiya (Japan)


Scale Motorsport Super-Detailing Sets
March 17, 2001
Looks like motorcycle modellers detailing needs are becoming more and more recognized. Scale Motorsport have announced these super-detailing sets:
| | |
| --- | --- |
| SKU4210 | Nastro Azzuro motorcycle photo etch set inc brake rotors and chain link overlay |
| SKU7210 | Nastro Azzuro motorcycle composite fibre set - over 20 templated patterns |
| SKU4215 | Suzuki RGV-T motorcycle photo etch set - over 70 details inc brakes & brass chain |
| SKU7215 | Suzuki RGV-T (XR89) motorcycle fibre template set - over 20 templated patterns |
No release dates at this time, but watch for them at the Scale Motorsport site: http://www.scalemotorsport.com


Kawasaki ZX-12R Ninja
February 28, 2001
Tamiya's has several photos on their product page. The ZX-12R (kit #14084) includes turn signal and tail light lenses moulded in clear colours rather than the usual clear that requires painting. The kit also includes lime green translucent body work. And Tamiya also have a special paint, TS-52 'Candy Lime Green', for the unique green colour scheme. Decals are also provided for the blue Ninja and possibly the silver.


Release information for the new Tamiya bikes
February 14, 2001
On March 13,2001
| | |
| --- | --- |
| 14083 | Suzuki RGV500 Telefonica Movistar '00 - 2200¥ |
| TS-51 | Telefonica Color - 500¥ |

On March 29, 2001
| | |
| --- | --- |
| 14084 | Kawasaki Ninja ZX-12R - 2400¥ |
| TS-52 | Candy Lime Green - 500¥ |


Nürnberg International Toy Fair Announcements
February 2, 2001
Here are Tamiya's show announcements: http://www.tamiya.com/japan/
nurn2001/broadcast.htm
Which includes pictures of the ZX-12R and RGV500gamma '00. It looks like the release date for both kits will be sometime in March 2001.


Tamiya 1/12 Kawasaki Ninja ZX-12R
February 1, 2001
Well, Tamiya (Germany) (http://www.tamiya.de) have let the cat out of the bag a little too early. This should have been announced next week at the Toy Fair in Nürnberg, Germany. Hopefully the kit will included decals for the green, blue and silver colour schemes.
14083 Suzuki RGV-gamma Telefonica Movistar '00
14084 Kawasaki Ninja ZX-12R
http://www.tamiya.de/tamiya/frames/
plastnews12.htm


Tamiya 1/12 Suzuki RGV-gamma Telefonica Movistar '00
January 25, 2001
Have you been wondering about the '00 Telefonica Movistar RGV500 release date? I was, so I wrote Tamiya Japan. They said:
"The new information will be posted on our web site You should also be able to get it from your regional agent in the near future."


Nürnberg International Toy Fair
January 22, 2001
Only a couple more weeks before the International Toy Fair in Nürnberg, Germany. Tamiya always announces new products at this type of event, so hopefully they'll officially announce the new motorcycle kit TMMI hinted at in issue #83. And give a release date for the Suzuki RGV-gamma Telefonica Movistar '00.

Watch the Tamiya site for announcements.