2000


New bike from Tamiya in 2001?
December 27, 2000
In issue #83 of TMMI, the editor says that bike modellers are in for a treat in the New Year. I wonder what it could be...
Studio 27 RGV500gamma Lucky Strike '97
December 1, 2000
Studio 27 have release a conversion set to convent the '00 Suzuki RGV500gamma to the '97 Lucky Strike version. Pictures on Studio 27's web site.
Pictures...


Acu-Steon Nastro Azzurro Detail Sets
November 30, 2000
Acu-Steon have release two details sets for the Tamiya NSR500 Nastro Azzurro kit (#14082). They are:
#24033 photo-etched sheet for 1900¥
#24034 bag of screws and 1000¥
The PE sheet provides oil cooler and radiator grills, front and rear disc surfaces, masks for painting tire lettering, name plate for display case and what looks to be a gas cap. The screw bag contains several screws which I assume are for the lower fairing.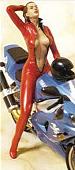 Coree 1/12 Motorcycle Rider Figure
October 24, 2000
Coree Production is more widely know for it's military figures and accessories. But they recently released some eye candy in the form of a 1/12 figure, Need for Speed, for the Tamiya 1/12 Yamaha YZF-R1. A unique way to dress up your R1.


MegaCity Model Motor Madness
October 4, 2000
This year's contest entries soared to 250+, more than twice that of last year. And the motorcycle entries were more plentiful with seven entries.

Here are a few pictures of the contest entries. Sorry, the pictures are a bit dark.
Revell 1/8 Harley-Davidson
Dragon/Esci 1/9 BMW R75
Revell-AG 1/9 Kawasaki ZX-7RR street bike
Tamiya 1/12 Honda NR
Tamiya 1/12 Ducati 888
Tamiya 1/12 Ducati 916
Scratch built 1/12 sidecar racer


Motorcycle Modelling eGroup Created
September 28, 2000
After months of thinking about it, I bit the bullet and created the Motorcycle Modelling eGroup.

The group is for all those interested in motorcycle modelling who want to share information with other modellers or have questions that others might be able to answer.
See you there.


Tamiya Announces new Acrylic Colours
September 26, 2000
After only having the enamel equivalents of:
X-31 Titanium Gold
X-32 Titanium Silver
X-33 Bronze
X-34 Metallic Brown
XF-28 Dark Copper
colours for close to a year, Tamiya will now offer them in their acrylic range as well. A welcome addition since the enamels are not available in Canada. Also note that Tamiya stills offers their paints in 23ml bottles in Japan.
More...


Tamiya 1/12 Suzuki RGV-gamma Telefonica Movistar '00
September 25, 2000
As I suspected, Tamiya will indeed give us Kenny Roberts Jr.'s 2000 ride.
More...


Tamiya 1/35 Japan Ground Self Defense Force Motorcycle Reconnaissance Set
September 25, 2000
For something completely different, Tamiya will release a modern military motorcycle with rider. I think it is a Kawasaki KLR 250 or 450 motorcrosser.
More...


ABER Nuts & Bolts
September 6, 2000
While shopping for 1/35 photo etched parts for my armour models, I stumbled on ABER's Nuts & Bolts (#35A15).
The sheet has ~350 hex bolt heads and ~390 nuts. The great thing about the nuts is that the center is open to accept a piece of wire for the 'bolt'.

Although meant for 1/35 armour, the sheet has various sizes that are suitable for even 1/12. Maybe even for 1/6 kits. These will prove very useful when detailing the motorcycles.


EA Sports Superbike 2001
September 5, 2000
GameSpot has preview screenshots and movies of EA Sports' latest Superbike PC computer game. The graphics look fantastic! Hard to believe that its still a year away.
More...


Fewture Models Logust w/Quasimodo
September 1, 2000
I saw this very neat model in the Sept '00 Model Graphix magazine. And with the help of Scott Hards at Hobby Link Japan, I found out that it is produced by Fewture Models.

I'm not sure of the scale, but their site says its 20" long so it must be 1/6 scale. So, something a little different to look for in your local hobby shop or Sci-Fi shop that stock Fewture Models products.
More...

More Tamiya price increases for Canada
August 28, 2000
Canadian modellers should brace themselves for another round of price increases on Tamiya kits. I'm told the Canadian distributor, Borgfeldt, is planning to bring their pricing in line with Tamiya America, so expect to see price increases of at least 20%.
My advice is that if you want a kit, get it now before the hobby shop has to restock the item. Oh, and if you don't get to the shop in time, then try not to gasp aloud when you look at the new price.
In Toronto the Yamaha XV-1600 RoadStar sells for around $50-60Cdn. And the Yamaha Antena3 for around $42-$49Cdn. Pretty steep when you consider Tamiya Japan's MSRP is 2400yen ($33Cdn) and 2000yen (28Cdn) respectively.


Tamiya 1/12 Yamaha XV-1600 RoadStar '99
August 24, 2000
I picked up my RoadStar the other day and here are my first impressions of Tamiya's latest street bike.
More...

Tamiya 1/6 BMW R75/5 and R90S in Canada
August 21, 2000
The reissued R75/5 (16005) and R90S (16008) arrived at Borgfeldt last week and are available in the Toronto shops now. If you haven't reserved one with your local hobby shop, call now!


My Chrome Yellow YZF-R1 coming to life?
August 21, 2000
Well, this has to be a first. A friend at Keith's Hobby Shop who rides motorcycles was so taken with my Chrome Yellow R1 that he has decided to buy a '98 or '99 YZF-R1 and paint it Chrome Yellow. Derek already has a quote for the paint job and says I should see the finished bike in April 2001.
Looking forward to seeing it Derek!
More...


Tamiya 1/12 Suzuki RGV-r XR89 '99
August 18, 2000
Charles Nyhof received his kit and offers some first impressions of Tamiya's latest FIM GP500 offering.
More...


Cream 1/12 Suzuki Nuda Concept bike '81
August 17, 2000
I only became aware of this multimedia kit when I had an enquiry as to where one could be purchased. The kit was originally released around 1990 for 2800yen. But, you might still be able to find one around. Especially in Japan since that is where the kit was made. Good luck with your search!


Tamiya Announces More New Kits
May 18, 2000
Tamiya announces two surprises announced at the 39th Shizuoka Hobby Show 2000:

| | | |
| --- | --- | --- |
| | | (¥) |
| 14082 | Nastro Azzurro Honda NSR500 | 2200 |
| 16031 | Honda Gorilla Spring Collection (Chromed) | 4500 |
More at Tamiya's Shizuoka show page ...




Tamiya Reissues
April 17, 2000
Tamiya will reissue two of their 1/6 BMW kits:

| | | |
| --- | --- | --- |
| 16005 | BMW R75/5 | 7000¥ |
| 16008 | BMW R90S | 7000¥ |


Tamiya Announces New Kits
April 17, 2000
Tamiya announced a couple of new motorcycle kits that will be release in July:
| | | |
| --- | --- | --- |
| | | (¥) |
| 14081 | Suzuki RGV500gamma More... | 2000 |
| 16030 | Honda Monkey 2000 (has 'aftermarket' exhaust and carb options) More... | 4800 |


Tamiya Price Increase in Canada
March 29, 2000
Effective April 1, 2000 the price of ALL Tamiya products in Canada will increase. Some will only see minor increases and others will see significant increases. Sorry, this is NOT an April Fool's joke.
Tamiya announced MSRP increases that will affect the 1/12 Motorcycle Series. The new prices will be effective May 1,2000. Stock up now!
| | | | |
| --- | --- | --- | --- |
| | | Old (¥) | New (¥) |
| 14006 | Honda CB750F | 900 | 1500 |
| 14010 | Suzuki GSX1100S Katana | 900 | 1500 |
| 14019 | Ducati 900 M H Replica | 1000 | 1600 |
| 14034 | Suzuki GSX750S New Katana | 900 | 1500 |
| 14035 | Honda CBR400F | 900 | 1500 |
| 14037 | Yamaha RZV500R | 1000 | 1600 |
| 14039 | Honda CBR400F Endurance | 1000 | 1600 |
| 14044 | Yamaha Virago XV1000 | 1200 | 1600 |
| 14045 | Kawasaki GPZ400R | 1000 | 1600 |
| 14048 | Yamaha SRX-6 | 1000 | 1500 |
| 14055 | Honda NSR500 GP Racer | 1000 | 1600 |
| 14057 | Honda VFR750R | 1500 | 2000 |
| 14058 | Yamaha FZR750R(OW01) | 1500 | 2000 |
| 14059 | Honda NSR 250 Repsol | 1500 | 1800 |
| 14060 | Honda NR750 | 1800 | 2200 |
| 14061 | Honda NSR250 Cup Noodle | 1500 | 1800 |
| 14065 | Suzuki GSX1100S Katana Custom Tuned | 1400 | 1600 |
| 14066 | Honda CB750F Custom Tuned | 1400 | 1600 |
| 14075 | Yamaha YZR500 (OW70) Taira Racing Version | 1300 | 1600 |


Revell-AG Announces New Kits
March 17, 2000
Revell-AG have couple of all new 1/9 bikes is due late this year:

| | | |
| --- | --- | --- |
| 07917 | Honda VTR 1000 SP-1 '99 | Nov 2000 |
| 07919 | Ducati 996 'Fogarty Winner' '99 | May 2000 |


S27 Release New Decal Sheets
March 11, 2000
Studio 27 to release conversion decals to convert Tamiya's Honda NS500 (14032) into:
HRC" WGP 1984
"Rothmans" WGP 1985


Tamiya Announces Reissues
February 17, 2000
Tamiya will reissue several 1/12 motorcycle in Japan in March 2000:
| | | |
| --- | --- | --- |
| | | (¥) |
| 14007 | Honda CB900F2 BOLD'OR | 1600 |
| 14008 | Honda CB1100R | 1600 |
| 14014 | Honda RS1000 Endurance | 1600 |
| 14016 | Honda CX500 Turbo | 1600 |
| 14020 | Suzuki GSX750 Police Bike | 1800 |
| 14021 | Honda VF750F | 1600 |
| 14023 | Honda MVX250F | 1500 |
| 14029 | Suzuki RG250 w/Full Options | 1500 |
| 14030 | Honda VT250 Integra | 1500 |
| 14031 | Honda VF750F Fully Cowled | 1600 |
| 14032 | Honda NS500 GP Racer | 1600 |
| 14047 | Yamaha FZ250 Phazer | 1500 |
| 14054 | Honda NXR750 '86 Paris/Dakar | 1800 |


Tamiya Announces New Kit
February 4, 2000
Tamiya announces as all new 1/12 motorcycle kit. The Yamaha XV 1600 Roadstar