2003


TAMIYA: Spray-Work Painting Stand Set
December 23, 2003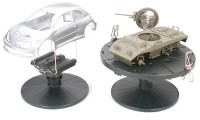 Tired of thinking of creative ways to hold parts while airbrushing or spray painting? I think we've all tried clothespins, tape, etc. in an effort to securely hold during painting. Well, Tamiya has a terrific looking painting stand designed to securely hold large parts like car bodies and small parts so they won't get blown away while airbrushing. Comes with a removable turntable and several clamps for holding parts.
The stand is available in Japan now, costs only ¥1,500, and the product number is 74522. Check Tamiya's product page for more...


TAMIYA: 1/6 Honda CB1100R to be re-issued
December 8, 2003


Fans on Tamiya Big Scale motorcycles will be delighted to hear that Tamiya will be re-issuing the 1/6 Honda CB1100R, kit #16022.
The CBR1100R will be available on January 28, 2004 and will be ¥8,800 in Japan. (1/12 boxart shown)


SWASH DESIGN: Have some gorgeous looking 1:35 motorcycles
November 22, 2003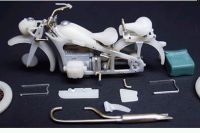 Just picked up my TMMI #101 today and noticed the amazing looking 1:35 motorcycle kits by Swash-Design of Japan. They have a Triumph 3H. Triumph 3HW, Zündapp K500, Zündapp K800, and a Steib Sidecar.
Kit are multimedia and contain resin, diecast, machined, and photo etched parts.


TAMIYA: More info on the new Honda PONS RC211V
November 18, 2003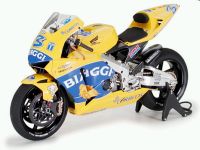 This time Tamiya will be offering the Honda RC211V in Team Honda PONS '03 colours. This team has Camel sponsorship logos which will obviously not be provided with the kit. But, aftermarket decal companies always offer decal sheets to add these forbidden markings.
This new kit, #14095, will be ¥2,500. The kit should now be available in Japan.
More details about the kits at Tamiya's product page...


TIP: Disposable Paint Mixing Cups
November 3, 2003


If you buy drink containers with plastic screw caps, wash and save the caps after you've emptied your 600ml or 2l bottle of Coca-Cola, etc. The caps make great little disposable paint mixing cups when you need to thin some paint for detailing, etc.


HOW TO: VW Schwimmwagen Diorama
October 31, 2003

Although not motorcycle modelling related, I thought those thinking of displaying their motorcycle model in a diorama might be interested in how my first diorama modelling effort went.
Dioramas can be quite intimidating at first glance, but like most things that appear difficult, its really just a matter of jumping the psychological barrier and actually giving it a try. Just try something modest for your first effort.
Here are the details of how I built the 1:35 Gone Schwimmin' diorama.


Zündapp KS750 detail set from Royal Models
October 25, 2003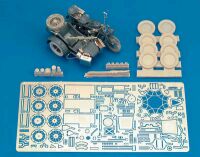 If you like adding details to your military motorcycles, you'll be pleased with the new Royal Models detail set #293 for Italeri's 1/35 Zündapp KS750 w/Sidecar (kit #317) or Tamiya's solo kit (#35023).
The kit includes a large sheet of photo etched (PE) parts that include wheel spokes, resin tires, resin machine gun, and other resin parts. The kits has a SRP of €27.00.


Tamiya, please STOP the insanity!!
October 8, 2003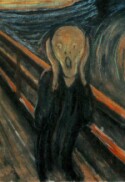 Over the last couple of years, the price of each new Tamiya release arriving in Canada never fails to shock devote Tamiya modellers and others. At a recent model club meeting, everyone was talking about the price of the new Tamiya 1:20 Williams BMW FW24. Would you believe $64.99Cdn + tax in most local hobby shops and has a suggested retail price of $74.99. Far exceeding even the Tamiya America SRP of $44US ($58Cdn).
Here are some more examples of the insane pricing these days:
Kit
MSRP
Toronto, Canada
If ordered
from Japan
14092 Repsol RC211V
¥2200 = $26.40
$55.18
$45.18
14093 Hayabusa X-1
¥2800 = $33.60
$62.09
$54.20
20055 BMW FW24
¥2900 = $34.80
$74.74
$55.58
24260 Ferrari Enzo
¥2800 = $33.60
$68.99
$54.20
61088 Dornier Do335B-2
¥3200 = $38.40
$80.49
$59.72
61090 P-47D Thunderbolt
¥2500 = $30.00
$74.71
$50.06
$ figures are Canadian and ¥1,000 = $12
Toronto, Canada price includes GST & PST on street price. Will be more if a shop is using SRP.
If ordered from Japan price includes shipping for ONE kit, GST & PST and $5 Revenue Canada fee. Keep in mind that that's for ONE kit, there would be additional savings if an order contained several kits.
In my personal opinion, if I can order ONE kit from Japan paying full MSRP, pay shipping, pay taxes and pay a Revenue Canada a $5.00 fee and STILL save money, the Tamiya distribution channel is broken and at the brink of being useless.
I don't know what the cause of skyrocketing prices is, but it has nothing to do with currency exchange. Three years ago ¥1,000 cost $14Cdn and today its just $12. And three years ago, a ¥2,000 GP500 bike kit only cost $33.00 and not the $50.00 these days.
Unfortunately for Tamiya, local prices has definitely affected the spending habits of myself and close friends. Not too mention discouraging potential new modellers from buying a Tamiya kit. I used to buy two or three Tamiya kits per week, but the recent pricing trend has virtually stopped my Tamiya kit purchases. Especially impulse and duplicate purchases. The last bike kit I bought was #14087 back in 2001, and even that was ordered from Japan. All I can say is thank goodness for Japanese mail order companies!
Tamiya Japan, surely you must have noticed a decline in the number of static kits being ordered by Borgfeldt Canada over the last two or three years. No?


Another 1:12 RC211V coming from Tamiya
October 8, 2003
The latest GP1 release will be the 2003 Team Honda Pons Camel RC211V. Like previous rides with tobacco sponsorship, the bike will be provided with non-tobacco race markings. No doubt aftermarket decal companies will offer alternative decal sheets. The kit, #14095, will be available in Japan on November 18th and will have a MSRP of ¥2,500. So, it looks like ¥2,500 is the new price point for GP bike kits.


Scratch built motorcycles
September 27, 2003
For those of you who have ever wondered if you should attempt scratch building your favourite motorcycle, then you should check out the amazing 1:6 motorcycles and bicycles at Motoscala Tarragó for some inspiration.


TRON 2.0 Computer Game
September 7, 2003


Okay, so this isn't modelling related. But, if you love the Light Cycles in the 1982 Movie TRON as I do, then you'll love this new PC game. I downloaded the demo (203MB!!) to give it a try and I must say it definitely deserves E3's Best of Show awards that it earned.
Here are some screenshots and a description of the the Light Cycle game.
For everything you want to know about the TRON 2.0 game, visit the official website


Release date for Tamiya's Telefonica Movistar RC211V
August 26, 2003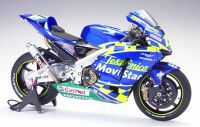 The kit will be release on September 10th in Japan and will have a MSRP of ¥2,500. Not sure if that jump in price from ¥2,200 is because its Kato's ride or if this is the new normal price to expect with future GP bike kits. With the ¥2,200 Repsol RC211V selling for $50CAD + tax in most Toronto shops, I'm afraid to think what that extra ¥300 will do to the price of the Telefonica Movistar kit in Canada, $60CAD + tax??
For more information and photos, see Tamiya's Japanese product page...


Model Graphix releases GP Racing Reference
August 25, 2003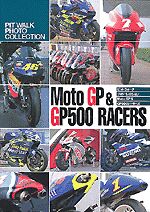 The new book called Moto GP & GP500 Racers from Model Graphix has 128 pages of full colour detail photos for GP racers from the 2001 thru 2003 seasons and some black & white coverage of earlier bikes. Although I have not seen the book myself, its getting high praise on the MotorcycleModelling group from those that have already bought a copy. The book costs ¥3,000 in Japan and is currently available. Although produced in Japan, portions of the book have been translated into English.
I'm not sure how widely available the book will be outside of Japan, but it can be order from Japanese on-line mail order sites such as Hobby Link Japan and Rainbow Ten.


Recent Aoshima releases
August 19, 2003
Catching up on the Aoshima releases. There are latest releases :
1:12 Naked Bike Series
32688 (NB47)
Honda Monkey Custom
¥800, Sept '03
32695 (NB48)
Honda Gorilla Custom
¥800, Sept '03
1:12 Performance Machine Series
32305
Z750FX Kai
¥2,000, July '03
32312
Kawasaki 750RS ZII Kai
¥2,000, July '03


Blackout 2003
August 16, 2003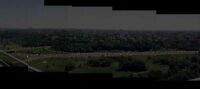 Its approximately 4:10pm and I'm sitting at the PC typing some emails after just getting home from running some errands. I notice that the room got darker and then about a second later got very bright. At first I though a cloud passed in front of the sun, but it was a clear day. Then it happened again, but I noticed that it was actually the light bulb and not outside at all.
I figured the power might go out, so I log on to my ISP to send my email, just in case. Too late... Just as I connect the power goes out and the UPS starts beeping. I shut down the PC and then go find out what has happened...


Tamiya to re-issue the 1:12 Yamaha RZ250 and RZ350 kits
August 10, 2003

The Yamaha RZ250 (#14002) and Yamaha RZ350 (#14004) will be re-issued in Japan on August 27, 2003 and cost ¥1,300 each.
See Tamiya's re-issue page for other kits being re-issued.


Tamiya to release Daijiro Kato's RC211V
August 2, 2003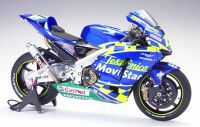 The reference to another RC211V kit (#14094) had been removed from the Tamiya web site shortly after Kato's horrific accident at Suzuka this Spring that took his life.
Everyone wondered whether the kit was permanently cancelled or just delayed. A lot of modellers hoped for the latter as they wanted to build Kato's Telefonica MoviStar bike as a tribute to him. Thankfully, it would appear that both Tamiya and the Telefonica MoviStar Team had similar thoughts and the kit (#14094) well indeed be released this September.
More info at Tamiya's preview page...


For the timid motor sports modeller
June 24, 2003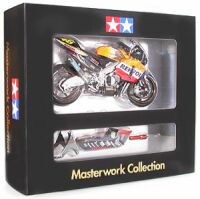 For something different, Tamiya will also be offering the new 1:12 Honda Repsol RC211V as a "Finished Model" in their new Masterwork Collection. This will come pre-painted and almost 100% assembled. All that is left to do, if you wish, is to install the lower fairing.
Some modellers will be disappointed with such an item, but models with complex decals of motor sports subject can be intimidating for beginning and even experienced modellers. So, it will be a good alternative for those who like the new RC211V, but fear the complex painting and decaling required to assemble kit #14092. If this sells well, I wouldn't be surprised to see some of the earlier GP500 bikes, like the '98 PONS MoviStar, also be added to the Masterwork Collection.
The Masterwork Honda Repsol RC211V will cost 7,200yen and will be released on July 16th in Japan. More info at Tamiya's product page...


Tamiya to delay second RC211V release?
May 2, 2003
The reference to another RC211V kit (#14094) has been removed from the Tamiya web site. No doubt the kit was to be of the team that Daijiro Kato rode for and was pulled out of respect after Kato's horrific accident at Suzuka. The kit may just be delayed or it may have been cancelled entirely. Only time will tell.


Tamiya makes it official
April 25, 2003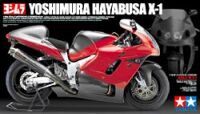 Tamiya have announced which kits will be displayed at the 42nd Shizuoka Hobby Show and the Yoshimura Hayabusa X-1 will indeed be released sometime in June. The kit number will be 14093 and it will cost ¥2,600 and be released on June 10, 2003 in Japan.
See all the 42nd Shizuoka Hobby Show news.
Although not announced, also coming in July will be a variation of the RC211V. The kit number will be 14094 and it will cost ¥2,200. More info at Tamiya's product page...


Tamiya to issue a Yoshimura Hayabusa X-1?
April 16, 2003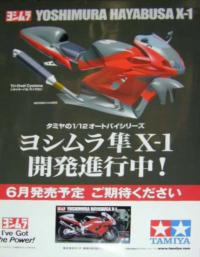 One of the members on the Yahoo! MotorcycleModelling group found this interesting picture of a possible new 1:12 kit. The picture appears to be a new release flyer. If released, it most likely will be kit #14093 and cost around ¥2,400 to ¥2,600. Differences appear to be:
- New fairing (note differing headlights)
- New mirrors
- Tri-Oval Cyclone exhaust
Here is a link showing the specifications and some pictures of the 1:1 Yoshimura Hayabusa X-1
Hopefully this wasn't an April Fool's joke!!


Tamiya to re-issue the 1:6 Honda CB750 Police Bike
April 9, 2003


Kit (#16004) will be released in Japan on May 21, 2003 and cost ¥9,800. I can't recall the last time this was re-issued. It may never have been re-issued. This could be a good indication that other long out of production kits will become available as well.
See Tamiya's re-issue page for other kits being re-issued.


A blockbuster year for motorcycle modellers?
February 14, 2003
According to GP Model & Hobby's International Toy Fair report, it looks like motorcycle modellers will have a lot to choose from this year. Here is what was announced:
Airfix 1:24
02485
Honda 4 Stroke
Airfix 1:12
07480
Honda NSR500
07481
Yamaha Y2MR1
Heller 1:24
80923
Honda RC211V
80924
Honda NSR500
80925
Yamaha YZR500
Heller 1:12
80910
Honda RC211V
80911
Yamaha Y2MR1
Italeri 1:6 (first three are unassembled diecasts)
4501
Honda NSR500 Nastro Azzurro
4502
Yamaha ZYR500 2001
4503
Honda NSR500 2001
4504
Moto Guzzi V-850 California (probably the Protar kit)
Italeri 1:9 (some Protar reissues)
4601
Honda RC211V
4602
Norton Manx 500cc
4603
Vespa Primavera 125cc
4604
MV Augusta 500cc - 3 Cylinder
4605
Yamaha YZR 500cc
4606
Moto Morini 250cc
4607
Honda 250cc - 6 Cylinders
4608
BMW RS 500 Rennsport
4609
Gilera 500cc - 6 Cylinders
4610
AJS 7R 350cc
4611
MV Augusta F4 Serie Oro
4612
Ducati 998 SBK T. Bayliss '02
4613
Kawasaki ZX7R (Yanagawa/Lavilla)
4614
Ducati Monster S4
4615
BMW R 1200 C
4616
MV Augusta F4 Special Parts '02
4617
Ducati 748S
4618
Ducati 75th Anniversary (Twin Box)
4619
Ducati Monster S4 Fogarty
4620
Ducati 998 Biposto '02
Italeri 1:16
4001
Honda RC211V
4002
Yamaha M1 '03
4003
Suzuki GSV-R '03
4004
Ducati Desmosedici '03
4005
Aprilia RS Cube '03
Revell 1:8
07922
Triumph Tiger 100
Revell 1:9
07923
Ducati Monster S4
Tamiya 1:12
14092
Honda RC211V Repsol
It will be interesting to see how many of the all new kits actually end up being released.


Tamiya reveals the 1:12 Repsol Honda RC211V in full colour
February 4, 2003
Tamiya revealed the production ready RC211V today at the International Toy Fair in Nürnberg, Germany and it looks great. Take a look at Tamiya's product overview...


Tamiya reveal 1:12 Repsol Honda RC211V GP1 pre-production test shots
January 24, 2003
With the release of the RC211V only a month away, Tamiya is showing pre-production test shots of the new kit and it looks great. Here is Tamiya's preview page with photos...


Surprise 1:6 NSR500 kit from Italeri
January 18, 2003


Italeri has released a 1:6 kit of the Valentino Rossi's 2001 Honda NSR500 Nastro Azzurro (kit #4501) and costs about £50 in the United Kingdom. Given the description of the kit by a member of MotorcycleModelling, it appears that the kit might be an unassembled die-cast model. It has a fairing split down the middle, a pre-painted heavy metal frame and swing arm and the decals are self-adhesive stickers. I've seen a 1:6 die-cast Repsol NSR500 in local stores, so I'm inclined to think that the Italeri kit the same die-cast with Nastro Azzurro colours and markings. A photo of the built model is at www.hisinsa.com...


Tamiya announce 1:12 Repsol Honda RC211V GP1 release date
January 10, 2003


The new kit (#14092) will be released in Japan on February 25, 2003 and cost ¥2,200. Nice to see the price remain unchanged. I half suspected it might rise to ¥2,400 since its an all new kit.