Gunze Sangyo



Gunze Sangyo offer both plastic and multimedia model kits. The plastic kits are like the typical plastic kit. And on the other hand the High-Tech multimedia kits are like no other motorcycle kits I've seen.
Website: http://www.mr-hobby.com
Description
1/12 High Tech Kits
G-251
Honda CR110 (OOP)
G-252
Meguro 500 Z7 (OOP)
G-253
Honda CR110 Racer (OOP)
G-254
Meguro 500 Z6 (OOP)
G-255
Yamaha YD1 Asama (OOP)
G-611
BMW R69S (OOP)
G-612
Honda CB72 Super Hawk (OOP)
G-613
Yamaha YDS1 (OOP)
G-614
Kawasaki 650 W1S (OOP)
G-615
Honda CB92 (OOP)
G-616
Rikuo RT-II (white box, metal frame) (OOP)
G-617
BSA DBD34 Gold Star (OOP)
G-618
Honda CB72 Clubman Racer (OOP)
G-619
Tohatsu Runpet CR50 (OOP)
G-620
BSA DBD34 Gold Star Clubman (OOP)
G-621
BMW R69S USA (OOP)
G-622
Rikuo Vintage (OOP)
G-623
Kawasaki Mach III Model H1 (OOP)
G-624
Indian Sport Scout 1941 (White box) (OOP)
G-625
Kawasaki 650 WIS-A (OOP)
G-626
Honda CB92 Clubman (OOP)
G-627
Kawasaki 500 Mach III (re-issue of G-623) (OOP)
G-628
Rikuo RT-II (OOP)
G-629
Indian Sport Scout (Blue box, plastic frame) (OOP)
G-630
Honda CR110 (re-issue of G-251) (OOP)
G-631
Kawasaki 650 W1S (re-issue of G-614) (OOP)
G-632
Tohatsu Runpet CR50 (re-issue of G-619) (Re-issued)
G-633
Meguro 500 Z7 (re-issue of G-252) (OOP)
G-634
Yamaha YDS1 Clubman (Re-issued)
G-635
BSA Gold Star (Re-issued)
1/8 Plastic Kits
FG-985
Honda 950SS (OOP)
Rebox of Heller kit #985
NOTE: I am not a retailer and the kits listed here are not for sale. If you're looking for a place to buy models, check out my mail order houses page.
Note: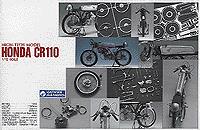 The 1/12 High Tech model kits are are very different from the typical plastic model kit. In addition to the plastic parts, the kit includes die-cast metal engine and frame parts. Wire rod for the wheel spokes and control rods. Photo etched parts for chain rings, chains, name badges, exhaust clamps, and for other fine detail. All this results in a far a more realistic looking motorcycle.
These kit look rather intimidating and rightfully so. A lot of fabrication is needed and you'll be working with materials you may not be familiar with. You need to assemble the wire wheels. Cut and bend wire into complex shapes for control rods. Bend photo etched pieces into complex shapes. Etc.
The only con that I can see is that some parts that are die-cast are out of scale and toy like because of the limitations of moulding in metal. Overall, they are incredible motorcycle models.
Having said that: These kit these are only recommended for experienced modellers.

| | | |
| --- | --- | --- |
| | | Contact Coaster |
| | | http://home.interlog.com/~khartlen |
| | | +/kits/gunze/gunze,htm |
| | | Last revised on: March 2, 2004 |
| | | Copyright © 1998-2003, Kenneth W. Hartlen. All rights reserved. |


Home - News - Tips - Gallery - Workshop - Kits - Links - What's New? - Site Index