Kit Details


Overview


Build Notes


Pictures


References
Gunze Sangyo 1/12 Rikuo RT-II '57 - Overview


it Contents (#G-628)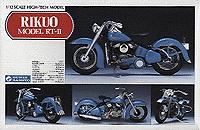 Sprues
A:White:5, B:White:20, C:Clear:5, D1:Chrome:13, D2:Chrome:11, D3:Chrome:1
Miscellaneous
Diecast 28, aluminium 3, metal rod 13, wire, 2 tires, 2 springs, 40 pins/rivets
Total of ~300 pieces
Colour Schemes
1957
Paints
Auto Colour:
A-2, 21

Mr. Colour:
1, 2, 3, 33, 47

Hobby Colour:
1, 2, 3, 18, 90
Release History
1999/?? -
Note:
Project on hold indefinitely since I've run into some serious fit problems during assembly.
This model kit and is very different from the typical plastic model kit. In addition to the plastic parts, the kit includes die-cast metal engine and frame parts for a more realistic looking motorcycle. Wire rod for the wheel spokes, control rods and other fine detail. At first glance the kit was rather intimidating since a lot of fabrication is needed and I'd be working with materials new to me.
Note: This kit is only recommended for experienced modellers. The kit involves a considerable amount of drilling and scratch building.