VITAMIN Z

THE OFFICIAL WEB SITE

---

INTRO - NEWS - CD'S - PROJECTS - RITES OF PASSAGE BIO

BURN FOR YOU BIO - SHARP STONE RAIN BIO - DISCOGRAPHY

RITES OF PASSAGE LYRICS & CREDITS

SHARP STONE RAIN LYRICS & CREDITS

RECOLLECTIONS - PHOTO GALLERY

GUEST BOOK

This site is not connected in any way to Phonogram Ltd (London), or Geffen Records.

All lyrics, artwork are the copyright of the respective owners and are not to be copied in any shape or form.

This site is only intended to spread the word of VITAMIN Z. It is not my intention to infringe any copyrights.

I will of course remove from my site any material that the copyright owners object to.

© 1998 - 2015 OverAndAbove Productions, Toronto, Canada
---
Being a fan of the 80's band VITAMIN Z and not finding a decent site for them on the Internet I decided to set one up. Through my efforts to get their classic album "Rites Of Passage" reissued on compact disc I got to speak to David Bates the man who signed the band to Phonogram in the U.K., as well as the producer of that album Ross Cullum. I then managed to get in touch with Nick Lockwood, a founding member of the group. He has been extremely helpful in providing photos, information and answering a lot of questions.
As well as providing information on VITAMIN Z, I plan to keep fans up to date on the current projects of the members. I hope through this web site to get in contact with other people who were involved with VITAMIN Z to help improve the site. If you are one of these people who can help, or just a fan, please feel free to contact me as I can use any relevant information you can provide.
Thanks,
Kirk
Thanks go out to the following people for their help in making this site possible: Nick Lockwood, Geoff Barradale,
John Adams, Dave Burton, Michelle Breiner, Derek McLellan, David Bates, Ross Cullum, Joyce & Laing Ferguson,
Sue Goulding.


---




November 14th, 2015 - Not a lot of Vitamin Z news these days. I was recently in touch with both Geoff and
Nick and they are both doing well. Renaissance Records did another pressing of
The Rites of Passage reissue a couple of years ago and it should still be available in
the U.S.

Geoff has been managing the band Drenge for the last few years. They have released
two albums, find out more about the band by checking their website here.

August 27th, 2009 - BIG NEWS everyone. The U.S. label Renaissance Records has acquired the rights
and has reissued Vitamin Z's classic album "Rites Of Passage" on cd. The cd will
contain the following bonus tracks: Burning Flame (Extended Dance Mix), Dancers
Of Eve, Circus Ring (Remix), Don't Stop (To Listen To His Music), Winds Of
Change, and Burning Flame (Dub Version). You can order the cd here and here,
it should be available through most major retailers.

- In other news, one of the band's Geoff manages the 'Arctic Monkeys' has recently
released their third full-length cd titled 'Humbug'. It's getting great reviews and the band
is touring, check out their website for more details, order the cd here.

- Nick has been working a lot recently on his artwork, maybe we'll get some photos of
some samples to post here in the future.

July 27th, 2008 - Please check out Nick's band Lazenby's website on details on how to order their new
cd "The Loft Years" and read all the glowing reviews the album has been getting in the
British media like the ones listed below. You can download the band's single 'Listening
To Joni' here. You can order the band's cd 'The Loft Years' from HMV, and Amazon.

Get Ready To Rock
"an extremely compelling debut 4.5/5"

The Beat Surrender
"an album that mixes electro, pop and soul in equal measure 4/5"

Room Thirteen
"If I had to recommend something for the next Bond theme tune, Lazenby and 'Let Me Live' would be it"

BBC Music
"The Loft Years is a startlingly original piece of work"

Classic Rock Society 5/5
"This is a classy 6 piece, brought together by Arctic Monkeys manager Geoff Barradale and fronted by the sensual sarah Lazenby. Lazenby ooze style and sophistication on a debut cd that is going to stand out from the pack upon its release in July. Mixing a tried and tested indie sound, with the glamour of sarah lazenby and a collection of icy cool, contemporary songs in the true british idiom (like debut Listening To Joni) or their acclaimed live performances from the Edinburgh festival, The 02 Wireless Festival and MTV party at Cannes, the band mix pop with that retro sixties chic of Scott Walker et al, Which is so popular right now (see also The last Shadow Puppets). This should be the sound of the summer. Timeless

Boyz magazine 4/5
Stylish, Accessible and fronted by the delicious sarah,Lazenby have cult hit written all over them. At times, sarah's voice has a graceful lilt similar to Erykah badu and tracks like "Touch Me Hold Me" manage to be chic, pounding and experimental at the same time. Yes, they may look pretty but theres a grit to Lazenby that could help them stick around.



June 15, 2008 - Great news! Nick's band Lazenby have just released their new single 'Listening To Joni'
and have an album titled 'The Loft Years' due out on 206 Recordings/Absolute (via
Universal) on June 23rd, 2008. Check out their website or their MySpace site for more
information on these releases and upcoming gigs. I wish Nick and Sarah much success with
the single and album, I know they've been working hard towards this for a while now. You
can also check their YouTube page for videos of the band performing and behind the scenes
footage from the single's video shoot.

- Also Geoff is now managing U.K. band 'Detroit Social Club', check their MySpace page
to listen to some of their songs.

- You can see some photos of Geoff speaking at a music management conference in Leeds
by going to this website.

- You can view Vitamin Z's 'Burning Flame' music video on YouTube.

February 10th, 2008 - Currently the only cds I have for sale are the Demos which would have made up Vitamin Z's
third album, we're all out of the Rites Of Passage cd. I know the guys in the band would like
to see Rites Of Passage reissued, or added to iTunes and if any news of these possibilities
arises you'll hear about it first here, so please check back over the coming months. Otherwise
Nick continues to be busy with his band Lazenby and Geoff is busy managing bands like
the Arctic Monkeys.

June 27th, 2007 - Just a quick update, sorry things have been so quiet recently. I met up with Geoff again
when he was back in the city with the Arctic Monkeys who continue to do well. He has
another hot band under his management, they're called 'Reverend And The Makers',
be sure to check them out and their great new single 'Heavyweight Champion Of The
World'.

Nick continues to write and perform with his band Lazenby and I think there could be
an album release in the near future. If you're going to be in London check out their website
for gig dates.

As far as cds go, all I can provide these days are copies of the demos cdr which are the demo
tracks that would have made up Vitamin Z's third album. I'm moving and won't be able to
deal with orders until August 2007 so please wait until then to email me with inquiries.


March 23rd, 2006 - Well last night I finally met Vitamin Z's lead singer Geoff Barradale! He was in town
with the Arctic Monkeys. He was gracious and took some time to chat and sign a few
Vitamin Z items for me. He has some other new bands in his roster, so when I get more
information on them I will post it to the site.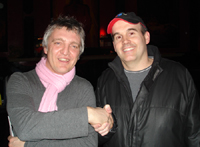 January 6th, 2006 - You may have heard of one of the hottest bands in the U.K. these days called the Arctic
Monkeys. Well it was Geoff Barradale who saw the band and signed on as their manager.
They have a hit in the U.K. with the song 'I Bet You Look Good On The Dancefloor', and
release their first full length cd titled 'Whatever People Say I Am, That's What I'm Not' on
February 21st in the U.S., and on January 23rd in the U.K.. They also have some North
American tour dates coming up in March. Congrats to Geoff and good luck to the band,
click here to go to their website.
- Nick's band Lazenby appear to be taking a bit of time off from live shows to go back in the
studio to record more songs. Hopefully there will be news of a full album release this year.
August 6th, 2005 - Nick's band Lazenby are about to release an EP in the U.K. and have some live dates lined up
in the coming weeks in the U.K. Click on their name above to get to their website with all the
details. Below are some recent photos of Nick & Sarah (Lazenby).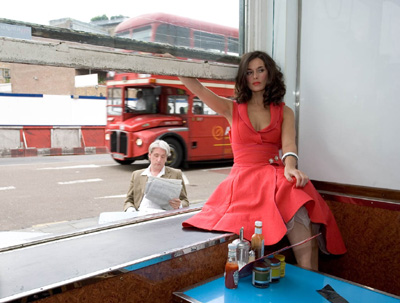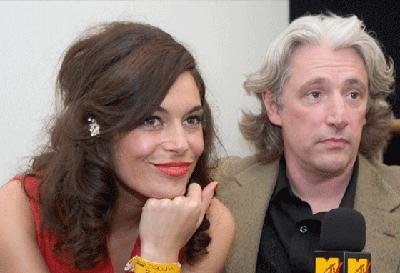 Jul 10th, 2005 - The 'Burning Flame' (Extended Dance Mix) is set to appear on the new Retro:Active Vol 4 cd
due out in Canada on August 9th/05, Nick is quoted in the liner notes, full details on the cd are
listed below. You can order the cd through the HiBias Records website.
Hi-Bias continues to deliver the classic sound of the 80's with Retro:Active 4. Most of these songs have never been
released on CD, making this a must-have for any retro/synthpop/new wave fan! For the absolute best sound quality
possible, all tracks on this CD are taken from the original source masters and digitally mastered in their original 12
inch versions. No more digging for old, impossible to find and expensive vinyl!
Howard Jones 'New Song' (Extended Version) **
The Cure 'In Between Days' (Extended Version) **
Tin Tin 'Hold It' (Extended Mix) **
Vitamin Z 'Burning Flame' (Extended Dance Mix) **
Underworld 'Underneath The Radar' (12" Remix) **
The Smiths 'This Charming Man' (New York Vocal Mix)
Blue Peter 'Don't Walk Past' (F Version Original 12")
Belfegore 'All That I Wanted' (Extended Club Mix) **
Nik Kershaw 'Wouldn't It Be Good' (Simon Boswell Re-Mix) **
B-Movie 'A Letter From Afar' (Big Mix) **
OMD 'Secret' (Original 12" Mix)
Blancmange 'Living On The Ceiling' (12" Mix) **
** NEVER BEFORE COMMERCIALLY AVAILABLE ON CD ANYWHERE!!!
Includes liner notes from Neil Arthur of Blancmange, and quotes from The Smiths, Vitamin Z, Apollo 440, film
scorer Simon Boswell, legendary producers Dennis Weinreich, Stephen Hague, Mike Howlett and others…

May 7th, 2005 - Nick Lockwood's band 'Lazenby' are finishing up recording an E.P. that is due out in June. For
news and gig listings check out their newly setup website (click the band name above to go to
the website).
- It looks like the 12" mix of Burning Flame will be included on a Retro 80's compilation to be
released in Canada in the coming months, and may include liner notes about the remix by
Nick. Once I receive a full track listing and release date I will post it to the website.

October 28th, 2004 - I found a small blurb about Nick's band Lazenby playing gig's at Momo's in London, it
included the photo below of the beautiful Sarah Lazenby singing.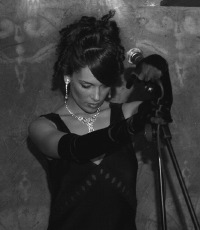 September 25th, 2003 - I was lucky enough to meet Nick Lockwood while on a trip to London England last
week! He was gracious enough to take some time to chat with me between sets as
Lazenby were performing that night. Unfortunately I didn't get a picture with him, I
will have to do that next time. Lazenby were great, Sarah has a star quality that is
quite evident on stage along with Nick's great songwriting and musical talents.

January 24th, 2002 - Nick Lockwood is currently writing some songs with Femi Fem, former member and
co-founder of the group 'Young Disciples'. The tracks will hopefully be recorded by
Lazenby, Des'ree, Atomic Kitten, Popstars, and Sugarbabes.

September 17th, 2001 - Here is a scan of the cd cover of the release of Seafruit's cd in Germany with two new tracks
(Faraway and Beautiful) and it has been titled 'I Feel A Bit Normal Today'. I heard from the
German record company and they recommended Milestone Mailorder to order the new cd,
they sell the CD for 33 DM (approx. $16 U.S.) plus shipping. To get to their website click here,
and here is their address and email:

MILESTONE MAILORDER, ADLERHORST 17, 22459 HAMBURG,GERMANY
PHONE # 49-40-552 46 80 FAX # 49-40-551 57 56,
e-mail: post@milestone-mailorder.com


August 7th, 2001 - Seafruit have a new website up and running, check the links page. Hope to have news on the
reissue of the Seafruit cd soon.
April 13th, 2001 - It seems that the Seafruit cd is temporarily out of stock with the people at Global Warming Records.
A new version of the cd with two new tracks so far unheard by the public (one previous track will
be removed) and different artwork will be available sometime in June. The band has just got a
licensing deal in Germany, hence the new version. When more information is available I will post it.
In an email on the Seafruit discussion list the band's manager has let us know that Seafruit has been
doing a lot of recording in their studio '2 Fly' in Sheffield. They have written the best part of 2 albums -
and they also have a couple of side projects up and running - Hoggboy and Juggla Crew.
February 11th, 2001 - Got another note from Nick that "Lazenby" will again be performing at the Twelve Bar Club in
London this Monday February 12th, 2001, starting at 9:30 pm U.K. time (GMT). You should
be able to watch on the internet at the UKOnlineTV website, follow the link to "Click here for
live".
January 30th, 2001 - Happy New Year to everyone, I hope 2001 will be a great year for you. Just got news that
Nick's current band Lazenby will be performing tonight at the Twelve Bar Club, Denmark
Place in London, from 8pm onwards. The full set can be heard on the web, click here to get
to the website. You can also download three Lazenby tracks at People Sound, definitely worth
doing.

November 8th, 2000 - Seafruit are scheduled to play a gig at the Upstairs At The Garage in London on Thursday
December 14th. The club is located at 20-22 Highbury Corner, London N5, ENGLAND.
October 10th, 2000 - You can now order the new Seafruit full cd from the following address:
Global Warming Ltd,
P.O. Box 5192,
Hatfield Peverel,
Chelmsford
Essex, ENGLAND, CM3 2QH
The cost is £12 for residents in the U.K. and £14 for residents of any other country.
I also heard from Nick Lockwood and he is doing well and working on his "Lazenby" project.

Sept. 25th, 2000 - Here is the track listing for the new Seafruit full cd due out early in October - Dirty Washing,
Somebody Else's Friend, Small Town, Air, Your Eyes, Rocket Fuel, Looking For Sparks,
Assassin, Not My Scene, Hello World, Truth Or Lies, Tenderhooks. Here is a scan of the
front cover: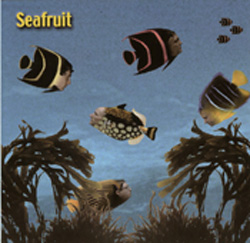 It also appears that the Seafruit webpage is down, so all my links to it will not work.

Sept. 10th, 2000 - The new Seafruit full album cd is scheduled for release on October 2nd, check their website for
details. They are currently on tour with Drugstore and Headswim (see ad in Melody Maker current
issue). - playing Leeds, Leicester, Bristol, Oxford,Colchester,Manchester,Stoke,London (27th)
July 5, 2000 - The new Seafruit cd single for the song "What If Everyone You Ever Loved Wasn't There" is now
available from the U.K via mail order only. The cost is £3.50 each, postage included within the U.K.
The address is: Global Warming Records
PO BOX 5192
Hatfield Peverel
Chelmsford
Essex
CM 3 2QH
Seafruit will also play some live dates:Dingwalls (with Drugstore) - Aug 1st and Ealing Traffic Jam
Festival - Aug 4th and then the band will tour with Headswim and Drugstore in September to
support their album release on September 4th (which will have usual distribution)
May 14, 2000 - a note from Seafruit's manager:
Just a quick note to say Seafruit play an (almost) accoustic set at Sheffield Devonshire Green
Festival on Saturday 27th May - I think about 9pm - will confirm.
May 7, 2000 - Seafruit will release their new cd single "What If Everyone You Ever Loved Wasn't There" on
May 29th, 2000 through Global Warming (Catalogue Number : WARMCD008). Still no
release date for the full album. Seafruit might be playing the Leeds Breeze festival on 1/2 July,
2000 (probably 2nd), once I get a confirmed date I will let you know. There are still copies
of the Vitamin Z cds left, scroll down for more information. I added a link to the Yahoo Fan
Club Discussion list for Seafruit today.
December 18,1999 - Just heard from Nick Lockwood that he broke his collar bone in September and cannot play
any instruments right now. He's on the mend though and hopes to be back to playing in a
few months. So send some good thoughts his way for a speedy recovery. I hope everyone
who has received the cds is enjoying listening to some classic tracks that still sound amazing
in the year 1999. Many people have emailed me about how much the "Rites Of Passage"
album means to them, definitely in my top ten favourite recordings of all time. Happy Holidays
to everyone, I hope that the year 2000 is a great one for you. Regards, Kirk
November 1, 1999 - There are still copies of both cds available, email me for the details. Just got a list of upcoming
concert dates for Geoff's band Seafruit, so if you live in the U.K. or plan to be there maybe you
can catch a show and support the band.
SEAFRUIT LIVE DATES
Nov 2 London Feet First (Camden Palace)
4 Oxford Bullingdon
5 Milton Keynes Bar Central
6 Leicester Charlotte
11 Liverpool Uni
12 Leeds Cockpit (Brighton Beach)
13 Wolves Little Civic
18 Nottingham Rock City
19 Bristol Louisianna
20 York Fibbers
23 Glasgow King Tuts
24 Aberdeen Glo 303
25 Edinburgh Attic
27 Sheffield Leadmill
28 Blackwoods Miners
29 Cardiff Ifor Bach
30 Southampton Joiners
Dec 1 Manchester Music Box

August 30,1999 - News from Geoff's new band Seafruit's manager, the next release will be a limited edition
cd ep for the song called "Dirty Washing" in October, and the full album is due to be
released in the New Year.

August 14,1999 - Well the cd/cdr's are ready to go (see below for more information), please email me if you
haven't heard from me and I'll give you the URL to get to the page that describes them and
has a link to an order form that you must print out and sign to send in with your payment. This
offer will only last a while as it has already taken up a lot of my time and money to get these
projects together.
- I got both versions of the new Seafruit cd single "Hello World" and the song is the best thing
I've heard by Geoff's new band. It is a great pop song that should be a huge hit, so try and get
a copy through the internet (or from a store if you live in the U.K.).

June 16, 1999 - I just wanted to let people who are interested to know that the CDR's are still being worked
on and I will email all people that have contacted me as soon as I have concrete details. Today
I also changed the intro page a bit adding an altered photo of Geoff and Nick.
The release date for the next Seafruit cd single for the song "Hello World" has been changed to
July 5th/99 in the U.K. .

May 22, 1999 - While surfing the Internet I cam across an interview with Geoff's new band Seafruit, click
here to get to it.
May 16, 1999 - I received an email from Stephanie Dawson with the URL for Geoff's band Seafruit's
web site, click SEAFRUIT or check the links page to go there. Their first single "Looking
For Sparks" was released in the U.K. on March 29th, support the band and buy the single.
The cd single can be ordered from CDEurope also.The next single is for the song "Hello
World" is due out June 14th/99. Bookmark the Seafruit web site and check in with the band
on a regular basis.
.
April 20, 1999 - I received an email from Stephanie Dawson with a photo of "Seafruit" in rehearsal,
to see the photo click here Seafruit . Hopefully Stephanie can also help keep us up
to date on what the band is doing, and when their web site comes online,Thanks Steph.
April 13, 1999 - I received an email from Geoff Barradale, former lead singer of Vitamin Z. He
appeared to be glad to know that there was a web site out on the band and
that there is still interest in Vitamin Z. Now that I am in touch with him I hope
I can keep everyone up-to-date on the activities of his current group "Seafruit".
I have put up a link to a review of Seafruit playing a gig in Sheffield, and it appears
that the album is due out sometime this summer. Seafruit also has a web site that
I will put a link to as soon as I get the URL.
- I will be issuing a recordable cd of the Rites Of Passage cd plus
some bonus remixes and b-sides (cleaned up with professional studio software)
in the next month or two. This will be a limited issue CDR as I can't continue to
make copies for years to come. Also I will be issuing another recordable cd of
8 unreleased songs that Vitamin Z recorded after the Sharp Stone Rain album.
These tracks are a rough mix, but sound great and give you a glimpse to what
their third album would have been like if it had ever been released. If you are
interested in buying copies of these CDR's please contact me and I will compile
a list of interested parties. I'll put up a section on the web site soon with track
listings and artwork so you have a better idea of what these CDR's will be like.
February 20,1999 - I heard from Nick that Geoff has finished recording his new album with his
band "Seafruit", but there is no release date yet. I hope to get a date and
record label info soon, something we can look forward to. Nick is also going
to talk to Geoff about the possiblity of getting samples of some of their
unreleased songs recorded after "Sharp Stone Rain" up on this web site, stay
tuned.
January 1st, 1999 - A Guest Book page has been added, so fans can get in touch with each
other, to discuss VITAMIN Z or trade VITAMIN Z items. Please email
me with your posting and I will update them on a regular basis.
January 1st, 1999 - I scanned and added 3 black and white promo photographs of the band
and added them to the Photo Gallery section.
January 1st, 1999 - I have received a lot of inquiries into the availability of both Vitamin Z
albums on compact disc. Unfortunately there are no plans to issue either
RITES OF PASSAGE or SHARP STONE RAIN on cd that I am aware
of. Copies of the SHARP STONE RAIN compact disc are sometimes
sold on the Internet, so you may find a copy if you do a search. I will of
course add any news of cd reissues to the web page if things change in
the future.
October 3rd, 1998 - I received an email from Nick Lockwood, he said "Saw the site it looks
good, it's nice to have a presence on the net."
October 1st, 1998 - I finally get the web page up and running, I hope you enjoy it.


---
POST VITAMIN Z PROJECTS
After Vitamin Z , Geoff Barradale formed a band called "The Wild Orchids" which lasted for four years. Unfortunately they never signed a record deal, so no recordings were available for the public to buy. After that Geoff formed a new group called "Seafruit" who signed a record deal with an independent label in February of 1998, but don't expect a record out until early 1999.
Nick Lockwood worked with various female singers for a couple of years after the end of Vitamin Z. He then formed a band called "Pressure" that lasted for two years. Unfortunately as with Geoff's "The Wild Orchids" no record deal was signed so no music was commercially released for us to enjoy. He then worked on a variety of projects, and then two years ago started working with a female artist called "Lazenby". They hope to get a record deal sometime in 1998.
David Rhodes has worked on a variety of recording projects since his days with Vitamin Z, and is probably most well known as being Peter Gabriel's guitarist and songwriting partner.
As I hear from others who were in the band I will expand this section with more updates, as well as keeping up to date with Nick and Geoff's current projects.


---
RITES OF PASSAGE GEFFEN BIOGRAPHY
click here to download bio
(3.5 KB)
---
BURN FOR YOU PHONOGRAM PRESS RELEASE
click here to download press release
(3 KB)
---
SHARP STONE RAIN GEFFEN BIOGRAPHY
click here to download bio
(11.3 KB)
---
VITAMIN Z DISCOGRAPHY
click here to download discography
(4 KB)
---
RITES OF PASSAGE - LYRICS AND CREDITS
click here to download lyrics and credits
(39 KB)
---
SHARP STONE RAIN - LYRICS & CREDITS
click here to download lyrics and credits
(33.5 KB)
---
RECOLLECTIONS
click here to download recollections
(2.32 KB)
---
PHOTO GALLERY
click here to download photo gallery
(286 KB)
---

---
© 1998- 2015 OverAndAbove Productions, Toronto, Canada
All Rights Reserved.
---