Drawing on traditional sounds and contemporary influences for their timeless melodies, Tamarack is folk music at its best. With vocal harmonies as true as the stories they have to tell, Tamarack's music explores the Canadian landscape and the people and events that shape our national character.
Expertly weaving a rich wall of sound with an array of instruments (guitar, mandolin, bass, violin, bazouki, concertina, bodhran, pennywhistle), a Tamarack live performance is charged with the same passion and commitment as the characters in their songs. With finely-honed songwriting skills this group creates new songs out of old legends, literally making history sing.
The songs of Tamarack go beyond place and time to speak to all of us about where we've been and where we're going.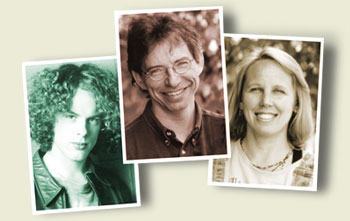 Tamarack is a trio consisting of Alex Sinclair (guitar, mandolin, vocals), Molly Kurvink (bass guitar, vocals) and Duncan Cameron (violin, mandolin, concertina, bodhran, pennywhistle, guitar, bazouki, vocals). We're based in Ontario, Canada, and for several years we have travelled throughout Canada, the United States, England and Scotland, performing at festivals, concerts, schools, libraries - indeed almost every kind of venue imaginable. We recently released our sixteenth album - Tree.
We have been commissioned to write dozens of individual songs, as well as whole song cycles on the heritage of Ontario's Rideau Canal, Grand River, and Muskoka areas. We have done soundtracks for films and videos, and scores for dance troupes and theatre productions. We have produced two CBC television specials - on the Rideau Canal and the Grand River - and provided the music and on-camera talent for a Global TV production about the music of Ontario.
We have written orchestral arrangements of our songs for the Thunder Bay Symphony Orchestra. We have acted as musical directors for theatre companies. We have facilitated many school workshops - both musical and theatrical - encouraging the creative abilities of students. We have run seminars on the music business and on songwriting, promoted concerts and sat on the boards of festivals and municipal arts organizations. Alex Sinclair, long-time Tamaracker, has written over two hundred songs of political satire for the CBC radio network.
We cover a lot of bases. But mostly what we do is write really good songs and perform them well. Our context is Canadian history, with a major in the heritage of our home province of Ontario, but what we care about is people and how they make a community, and that's why American and British audiences have been so receptive to our performances. Tamarack's music is simply a passionate reflection of the people we've met along the way and the communities that have opened their doors to us.
Dirty Linen once said of us, "This is a band who knows what the music they play should sound like, and knows how to make it sound that way." And we think that's an honour.
---
Looking for a high-resolution photo of the band for publicity purposes?
High-Resolution Photo