The Mineyko Genealogy
Journey of Self!
---
Please send comments to me:

Copyright Krzysztof Mineyko @ 1998-2001
last update: 24 March 2002
---
---
I have written this Home Page hoping that someone who reads it will find the information, about some members of my family, interesting. I have discovered that the lives of some of them were extraordinary. Some of them became famous and very influential: Tomasz Mineyko (1730-1834), Zygmunt Mineyko (1840-1925), Henryk Sienkiewicz (1846-1916), Georgios Papandreou (1888-1968), Andreas Papandreou (1919-1996), Ksawery Puslowski (1906-1998), others remained unknown. However, all of them had very interesting lives that became evident to me when I had the opportunity to learn more about them.
For example, who would have thought that Andreas Papandreou who was the Prime Minister of Greece for many years and led the political fight against Turkey, might have anything in common with the leaders of the battle of Vienna (between the united forces of Europe and the Ottoman Empire on September 12, 1683). His uncle prince Stanislaw Jablonowski was a direct descendent of general Stanislaw Jablonowski who led the Polish infantry and cavalry in this battle. The general Jablonowski was the second leader of united forces after monarch Jan III Sobieski. His other uncle, count Karol Ludwik Potocki, was a descendent of another general who took part in the same battle.
Who would have thought that, Nick Papandreou who has already published a couple of interesting books and is a very promising author, may have anything in common with Henryk Sienkiewicz. The first Polish Nobel prize winner in literature (Sienkiewicz) wrote many interesting novels, but is mostly known for his "Quo Vadis". Henryk Sienkiewicz's mother in law was Wanda Mineyko, and Nick's grandmother was Sophia Mineyko, both from the same family.
I also found out a very interesting fact, that whilst some members of my family fought for Poland, others served the oppressor. For example, a first cousin of Albertyna Mineyko's husband was a famous Russian general, Franz-Edward Iwanowicz Todtleben (1818 - 1884) who played a very important role in defending Sevastopol during the Crimean War (1853-56). He served as the General Lithuanian Governor for many years and was responsible for the suppression of Polish independence movement in the region. At the same time, her brother Zygmunt Mineyko (1840-1925) was captured and sentenced to death for his activities against Russia and for which he was awarded the highest medal (Virtuti Militari) by marshal Jozef Pilsudski. Much later, his cousin, Tomasz Mineyko (1901-1972) was also decorated with Virtuti Militari for his services during the Second World War.
Another member of the family who served the Polish opressor was Andrei Mineyko (1885 - 1940). Andrei was born in Oshmiany. When he was a student he engaged himself into communist activities. Another famous communist activist, Felix Dzierzynski (1877-1926), who is best known as the first head of the Soviet "Cheka," or Soviet security police in December 1917, was from the same region. I am sure that the Mineyko family and the Dzierzynski family knew each other for a long time. Both families belonged to the landowners class, the most privileged class in Lithuania and Belarus. Andrei Mineyko took active role in the October Revolution, in 1917. He was a war commissar and worked in the Smolny directly for Felix Dzierzynski, the father of the Soviet K.G.B. Later, he was posted as a local leader of communist party in Gomel and in Keidanov. His family background was discovered. He was arrested as an enemy of people in 1938 and sent to the Gulags in Siberia. Two years later, he died.
Some members of my family influenced Polish literature as a source of inspiration. Aleksander Fredro (1793-1876) described in his plays scenes that he had an opportunity to observe at his friend Tomasz Mineyko's estate. All Fredro's comedies reflected the lives of Polish nobles, which he observed in the Lithuanian countryside. Also, when Henryk Sienkiewicz (1846-1916) created Zagloba in his "With Fire and Sword" he described his father in law, Kazimierz Szetkiewicz who married Wanda Mineyko. Tadeusz Konwicki (1926-) has written in "The Polish Complex" about Zygmunt Mineyko F.10, the 1863 revolutionary. The author was unsuccessful in his attempt to keep his homeland free in the 1940's. He identified with Mineyko in defeat and hopes. Konwicki uses the imaginative identification to recall himself at eighteen when he was filled with idealism for what Poland might be.
In addition, I found out that members of my family crossed borders very easily. They spoke many languages: Polish, Russian, German, Greek, French, English, Swedish. Their descendants live in many countries: Poland, England, Scotland, France, Greece, Sweden, Canada, USA, Africa and in Russia.
If you find any information supplied by me incomplete or if you would like to write any comments, please wake me up.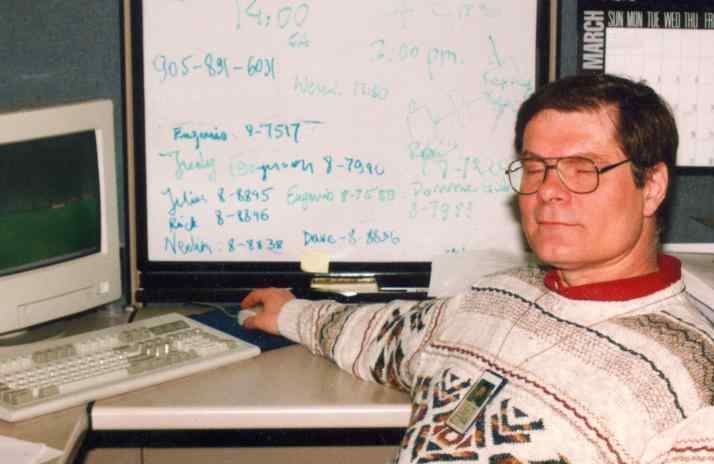 I have attached a diagram which to the best of my knowledge shows the Mineyko family tree and other relatives. I have marked each person with a label. I have marked myself with the label I.16. These labels help identify the person in the description below. Some of the information about these people did not come from documents but is hearsay.
The beginnings of the Mineyko family are not clear. Andrzej Nowicki (H.21) claims that the family started with Lukasz Mineyko in 17th century. Zygmunt Mineyko (G.8) claimed that the roots of the family were much earlier. He could have been an invaluable source for information as he was the last owner of the family estate, Balwaniszki. He also had access to documents that were lost during the Second World War. When I was a child he told me that the beginnings of the family started before Lithuania united with Poland into one state (before the 1400's). At that time the family name was Mileyko instead of Mineyko. The family belonged to the rulers of Lithuania. According to Zygmunt Mineyko someone in the family signed one of the most important documents establishing the Union between Poland and Lithuania. Unfortunately, I have been unable to confirm this. Maybe the document was signed in 1413 when the agreement was known as the Unia Horodelska. Forty-seven Polish nobles signed the document and accepted 47 Lithuanian families into the Polish nobility.
However, Michal Mineyko (I.7) claims that the family started with Jakob Miniat Mineyko in 1620. The meaning of the name Miniat is uncertain. I have tried to understand this name. It may be a clue that explains the origins of the family. The name Miniat does not sound a Polish name at all. Maybe the name derived from the office which Jakob held at that time. In the middle ages, someone who was responsible for the production of money (coins) was called "mincerz". This office name was also used for someone who collected taxes for a monarch. This is only a guess, but Jakob could have held this position and as a result of his service the sovereign might have granted him a nobility.
The name Miniat could be also derived from Russian word "miniat" that means "change". Maybe the first ancestors were Russians who immigrated to Lithuania at the end of 16th century. This might be probable, because one of the first ancestors had clearly a Russian first name, Hrehory. At that time Poland invaded Russia. Some Russian boyars collaborated with the Poles. Eventually Russians expelled invaders. This is pure speculation. Maybe some Russians by the name Miniat had to escape because of their sympathies towards the Polish invaders. Some boyars were hoping that under the Polish rulers they may get similar freedom to that of noble in Poland.
Athanase Mineikos (H.29) has suggested a Greek origin for the name Mineyko. Miniatis is a Greek-Byzantine name for rent collectors. Min or Minas in Greek means "a month". Miniatiko means "a monthly rent" or "a monthly salary". According to Athanase and his grandfather Zygmunt Mineyko (F.10), Mineikos is a variation of Miniatis, or the person who comes and collects a rent once a month. The Greek origin of names Miniat and Mineyko may not contradict the Russian connection. In the middle ages, the Greek culture influenced very much the Russian culture. Russia considered itself a direct continuation of the Byzantine empire.
Mineyko or Mineiko could simply be a patronymic from a diminutive of any of the old Lithuanian two-root personal names including the Min- [_mineti_ "to remember"] root: Mindaugus, Mingailas, Mingaudas, Mingintas, Minkantas, Mintaras, Mintautas, Minvydas. It also could be a patronymic from Minas a known short form from any of the former.
I favor the following interpretation of the name origin:
In the beginning, in 14th and 15th century, the family members used a name "Miniat". The name was derived from the Lithuanian verb "_minti_" that have two meanings: "trample, tread on" or "recall, mention". It might have also been derived from "_mineti_" that means "recall, remember". Basically, the name meant "memorable rider", a name expressing the hope that a child would grow up to be a fine horseman, one people would remember for his riding abilities. Later, when Lithuania was influenced by Slavs, the family added to Lithuanian name a slavic nickname formed from the name taking the first element, dropping the rest, and adding the diminutive -eika. In Polish "mina" means a distinct features of the face. For a while, the family went by both, sort of like saying "my name is officially Miniat but these days they're calling me Mineika more and often. Later, they changed it into more Polish version of Mineyko. Gradually they quit going by the original name and went exclusively by Mineyko.
When drawing up the family tree, I used as a basis the original family tree made in the middle of the 19th century of which I have a photograph.
---
Relationships between members of family

Information about relatives
Zygmunt Mineyko (1840 - 1925)

The Papandreou family
Other memebers of family

Russian Links

Memoirs