DVD: The Doctor, The Tornado and the Kentucky Kid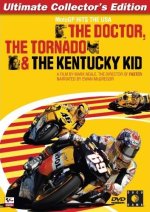 While checking out HMV at lunch time the other day, I stumbled upon an interesting looking release under 'General Interests', a documentary about the 2005 U.S. Red Bull MotoGP at Laguna Seca. At just $24.99Cdn, I grabbed it.



Disc One : The Documentary



The documentary (104min) focuses on Valentino Rossi (The Doctor), Colin Edwards (The Tornado) and Nicky Hayden (The Kentucky Kid) during all aspects of the race week; testing, practice and the race. Unfortunately Rossi isn't as prominent as expected, prehaps preoccupied with getting to know the track for the first time. Other riders like John Hopkins, Kenny Roberts Jr, Max Biaggi, also get some time. There is commentary from the riders when watching replays of their practice and race laps. They also talk about the history of the track, why it was reconfigured, and why it is considered a 'racers' track. You also get some insight into how each of the riders got into racing and a glimpse of their family lives.

You get some pit access, but they steer clear of showing or talking about technical details of the bikes.Obviously, they don't want to reveal advantages to opponents. So, don't expect this to be the ultimate MotoGP modelling reference, no pix of naked bikes.

In addition to the documentary, there are eleven additional scenes including some promo stuff in Hollywood. Website says mastered in HD, but I found the quality to be okay and nothing spectacular. Since my TV is on the blink, I viewed the DVDs on my PC using PowerDVD and a 19" CRT set to 1600x1200x32.



Disc Two : Multi-angle race coverage



Nice raw racing coverage with different viewing angles, including full lap onboard views.



Start - Lap 4: Six viewing angles


1 )Multi-screen, 2) TV, 3) Hayden, 4) Rossi, 5) Roberts/Hopkins/Biaggi, 6) Capirossi/Edwards



Lap 13 - Lap 17 : Four viewing angles


1) Multi-screen, 2) TV, 3) Rossi, 4) Edwards



Lap 29 - Finish : Five viewing angles


1) Multi-screen, 2) TV, 3) Hayden, 4) Edwards, 5) Rossi


Although not as technical as some diehard MotoGP fans would like, it is a relief that it is aimed at the race fan and not the one weekend race fan.

I really enjoyed watching the DVD and extras and I'm sure most MotoGP fans will enjoy it as well.

Released by Docurama.com
Product: NVG-9860
ISBN: 0-7670-9344-5
Format: NTSC
Region: ?? Probably Region 1 since Amazon.co.uk lists it as Region 2.