Hello, I'm Ken Hartlen (aka Coaster),
I'm currently living in Toronto, Ontario Canada. and earning a living as a software developer.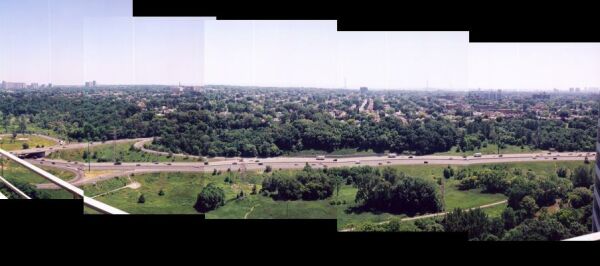 View looking at south east Toronto over the Don Valley Parkway towards the Lake Ontario shoreline from my 24th-floor balcony.
Why Coaster?
I was given this nickname when we were putting together a company softball team and we needed unique uniform names. Coaster, because I'm originally from the east coast of Canada and that I'm a roller coaster nut and spend a lot of time riding the roller coasters at Paramount Canada's Wonderland. An excellent site dedicated to Paramount Canada's Wonderland (PCW) is PCW Junkies that has statistics, photos, and some videos of the park's rides.



Although I am very interested in motorcycles, I do not ride one. But I do ride an Honda All Terrain Vehicle (ATV).
After seeing the K'NEX Screamin' Serpent TV commercial back in 2001-2002, I was quick to get a set since I like roller coasters so much.

It is huge when built, at 183cm (72") x 61cm (24") x 91.5cm (36") and has 1280 pieces and a 140pg (8.5"x11") instruction book. The sound effects box is incredibly cool. Hear the click...click... of the lift chain and then the riders' screams as they plunge done the hill. The sound effects box uses a light sensor to detect the passing train and then starts screaming.


The next K'NEX offering was the

Rippin' Rocket

. Rather than a light chain, this set used to motors with spinning wheels to launch the cars. I never did get my hands on one of these as I was out of work at the time and avoided such unnecessary temptations.

The K'NEX

Shark Run

uses the same coaster parts as the

Screamin' Serpent

and

Rippin' Rocket

,

but this set is a modest size in comparison. Much less work to set up and take up less space. Unfortunately, also a short ride around the track. The car is a surfer figure riding the track 'waves'.

The most recent (2005) K'NEX offering is the

Vertical Vengeance

. This set uses new "Micro Parts" that are about 40% smaller than the standard K'NEX parts. The advantage of this is that a much more complex coaster can be set up in a smaller space. The

Screamin' Serpent

has 23ft of track compared to the 33ft with the

Vertical Vengeance

. This makes for a longer ride to watch .

The next K'NEX coaster will be called the

Renegade Run

. This set will also use the "Micro Parts", but will only include 19ft of track. So, like the Shark Run, a smaller set for quick set up and with minimal space requirements.

Renegade Run




June 2007



Realistic Working Roller Coaster Models!!
While the K'NEX coaster sets are fun, they don't look realistic. If you want a working roller coaster that looks like the real thing, then you'll want to check out the sets available from CoasterDynamix. The models look fantastic and you simply have to watch the videos to see them in operation. Then you'll want one!

I developed this site on my own. Originally it started as a learning tool to learn how to build a website and create HTML documents. My site has gone through several major revisions over the last couple of years. Each time trying to make the site more user friendly and informative.
The current look and feel of the site was influenced by two books that I'd recommend to any aspiring web designers. They are:
And to make page maintenance easier, I developed a program that will take template and content files and build the final HTML pages. This makes minor 'look & feel' changes to the site very easy and less laborious.
I just had to drop a note and say "Wow, I'm truly impressed!" Both with your modeling skill AND the web page. - Mac
Great website, I've added it to my 'favorites' on my PC. - Glenn Ryder
Congratulations great site in motorcycles!!!!! - Marco Antonio Elguezabal
I truly enjoyed your website. It is by far, for me, one of the most
informative sites I've ever been on. Outstanding job. - Paul Paster
Very nice work Ken. Every so often you see a picture of a model that makes
you ask "is it real or is it Memorex"? Thanks for the pics and suggestions. - Rick
I came across your web-site more by accident than design, but having done so I must congratulate you on a truly professional site. It really is an excellent source of information on all things motorcycle kit construction related. - Keith Bristow
OMG !!! man your website is, I must say it LOUD !!! , the best thing I've seen in a long time! Great infos, techniques and much much more...too much for me ! - Storm
My name is Adam. I, like many others it seems, found your site by accident.
I have to say, you have done a phenomenal job. - Adam Watson
Thanks to Ken's help, I took second place in a contest a couple of years with my first MC kit. - Jarvis Offield