MV 915 VTx - Miniature Video Transmitter
---
Yes - This transmitter is the Size of a Small Coin!
---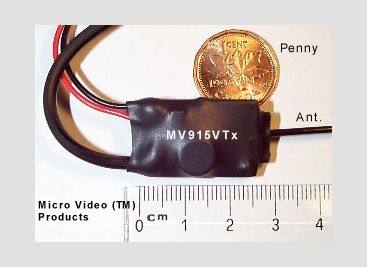 ©
---
Designed, Built & Certified by Canadians
for Legal "* no licence required" use in Canada.
* Note. In some export jurisdictions - you must check with local regulators about the use of this sophisticated product.
---
How to Use - Plug into any standard video source and connect a 9 Volt transistor type battery.
That's it - Plug and Play.
Pick up the wireless video transmission up to hundreds of feet away with either our
MV Rx402 A/V Receiver or our MV MnRx 223 Receiver /w built- in Monitor.
All Products can be used with batteries - so you can be completely portable.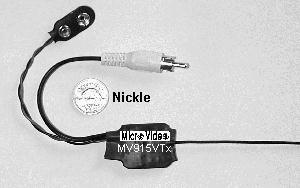 ©
©
---
| | |
| --- | --- |
| MV 915 VTx Video Transmitter... | $call$ |
---
Home Page || Top of Page || Requests
©