Kanu Links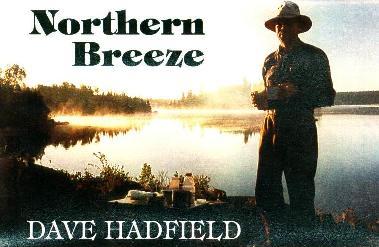 I heard Dave Hadfield for the first time when he played during a break at the Wilderness Canoe Association's annual symposium and I was immediately captivated. His songs are genuine and reflect well the essence of the northern experience. He sent me the words to his songs, but if you would like to listen to them, order the CD. It's $Cdn15.- and there may be a mailing charge. How? send an e-mail to rhadfield@sympatico.ca or a letter to Dave Hadfield, R.R. #1, Utopia, Ontario L0M 1T0, CANADA.
You also can listen to some of the music. See at the bottom of this page.
Dave sent me the words to some new songs - songs that are not on any recording yet. Maybe you have heard him sing these over the last year. They are listed at the bottom of this page.

Big Jim Bushey*

"...Big Jim Bushey is a guide on Larus Lake.
Don't make a lot of money, but he lives for living's sake.
Goes fishing for the summer, hunting in the fall.
He may not live like you and me, but that ain't bad at all."
(for the full text, click here)

Shield
"You know you haven't seen this country,
Until you leave the roads behind,..."
(for all the words, click here)
Riley's Bait*
Do you have a hidden fear of snapping turtles? You'll love this one!
(for this juicy ditty, click here)




Few in Canada appreciated the significance of the Hudson's Bay Company's decision in 1987 to get out of the fur business. Dave Hadfield reminds us that this company once stood for much more than a "simple quest for fur", in the Bay Trader
(click here)
Every one loves a Tourist. Can't live without them, though...
(curious? - click here!)

Jack Pine*
"I dreamed a voyager stood there, sparkling eyes and tangled hair,
Told me of a life he'd lived 200 years ago,
He'd had 3 wives, a dozen sons, an iron back, a hundred songs,
And late at night he'd hear the wind from under his canot."
(for ALL the words, click here)
The following songs have not been recorded yet:

Listening to the songs: files marked with * have an audio link to a 60 second snippet of the song. I.e. go to the page of the song and click on the "audio" spot. This will download the very large file for this song (about 1.3Meg, ie it takes with my 56KB modem up to 5 minutes). An audio player program is automatically invoked (in my case, a Netscape plug-in) and it should start playing the song.
If you have trouble, please sort it out with whoever helps you with your system. It may be simple or maybe your configuration cannot support the playing of audio files.