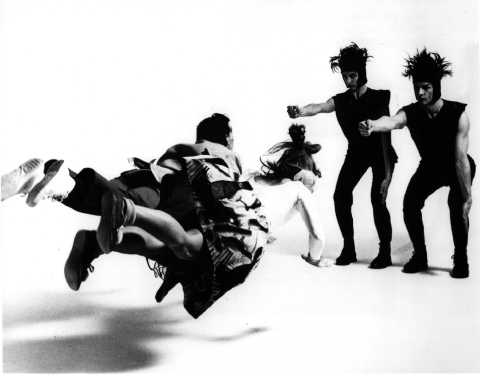 ABOUT THE TECHNIQUE CLASSES
One of the most unique things about this course is the private technique classes. To be honest I never understood why they aren't more common in dance. Virtually all of the other performing arts do it. Even dancers, when they do pilates, try and get "privates". But, when it comes to technique, they seem to like to run in herds. Like most dancers I, for years, trained in large classes. Like most people I received a smorgasbord of corrections sometimes insightful, but often generic. Probably on average I got 4 or 5 corrections a class. Yet very few dancers do private technique classes. Once I started teaching them I was astounded by three things:
First: The rate of progress that was possible
Second: That most dancers have a very superficial knowledge of the basics.
Third: Most dancers already know what they need to do but often don't really know how to go about correcting the problem
In the private technique classes we operate at your level. Though they are thorough the pace is very relaxed. We generally laugh a lot but we aim to get it right. The idea is to give you deep and thorough technical knowledge that you can take away with you and keep and use for the rest of your career.
The class consists of two parts. The first is a long, slow barre - simple, deep and thorough. The second is centre work. This part focuses on performance - how and with what intent you move - how to communicate ideas, how to project, how to dance the transitions, how to move fully, how to develop a character. I have never felt that centre work should bog down on technical details such as placement and pointed feet. One doesn't ignore those aspects but the place to really attack them is in the slow technical work at the barre. The centre work is about how and why you move - about passion and the love of movement and performing.
The technical information you get at this course is not mysterious hocus pocus or therapy. Its straight up simple technique and is stuff you can confidently take back to your regular classes. Following each private you are generally assigned homework - a technical thing to work on. Doing homework, we have found is one of the fastest ways to progress as a dancer. Its always surprised me how few do it.
Each week each student gets two 2 hour private technique classes. During the week you also get 2 group technique classes. The first part of the group class is structured so that you can work independently on the information from the privates. The centre and cross floor work in the group classes concentrates on repertory movement.
This method of teaching gives dancers an unusual amount of free time. The work is hard and fun but the pace is quite relaxed. We do assign homework in both the technique classes and the repertory classes. The church is equipped a TV and a VCR and in the repertory classes are quite heavy with video homework especially in the beginning.
COMMENTS FROM PAST STUDENTS
"I have taken classes with Randy Glynn for two summers. I find that his classes are structured so as to develop basic technique, strength, insight into one's own physicality, performance skills and the ability to move in space." - Tanya Kilian, Dancer, Oberlin Dance Ensemble, Oberlin, Ohio.
"I really feel that the technique classes started me in the right direction in terms of how to use my body in dance" - Tracy Iann, 4th year student at Simon Fraser University
"In the private technique classes I learned basic dance principles relevant to my body that I wish I knew years ago. I kept wondering why someone hadn't told me all this before." Melanie Phillips, 4th year Student, Simon Fraser University.
"Taking classes with Randy Glynn is an innovative approach to the dance class for any type of dancer. I have found his one on one approach to teaching very helpful to me. I feel now that I have a much better understanding and movement as well as my own body as a result of his classes." - Sally Morgan, independent dancer, choreographer and presenter, Toronto.
"Not only did Randy provide innovative and effective solutions (to technical problems), he challenged my artistic approach to dance. I finished each class with a different discovery and the course with a rejuvenated passion to dance" - Zoe Poluch, 2nd year student, The School of the Toronto dance Theatre.