RENT THIS ARTS FACILITY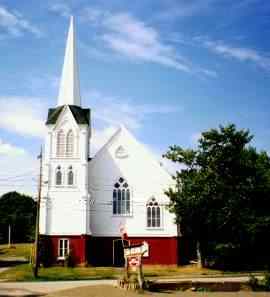 THE GRANVILLE FERRY STUDIO IS AN INEXPENSIVE RURAL ARTS FACILITY FOR RENT
RENT IT AS A RETREAT
OR TO DO RESEARCH IN
OR TO CREATE A PERFORMANCE IN
OR TO STAGE A PERFORMANCE IN
OR "E" - ALL OF THE ABOVE
RENT IT FOR DANCE, THEATRE OR PERFORMANCE ART
IT IS TOTALLY UNSUBSIDIZED BY THE GOVERNMENT - NO FORMS TO FILL OUT - JUST CALL AND ASK
THE FACILITY OFFERS THE FOLLOWING:
A DYNAMITE 40 X 60 STUDIO WITH A 38 x40 SPRUNG FLOOR, 21 FOOT CEILINGS, TONS OF NATURAL LIGHT IN A 120 YEAR OLD CHURCH
SELF CONTAINED FULLY FURNISHED ACCOMODATION FOR 6 COMFORTABLY (OR MORE IN A PINCH) . THERE IS ALSO OTHER ACCOMODATION AVAILABLE FOR LARGER GROUPS, SHOULD IT BE REQUIRED, NEARBY
A RURAL SETTING - THE FACILITY IS LOCATED IN THE CENTRE OF A SMALL TOWN ON SALT WATER IN NOVA SCOTIA'S ANNAPOLIS VALLEY
6 BICYCLES
IT IS ALSO BEAUTIFUL! BEYOND WHAT MOST COULD IMAGINE. BECAUSE OF THIS THE AREA HAS ATTRACTED ARTISTS AND SPECIAL CITY FOLK FOR YEARS. THE RESULT IS THAT THERE IS A REMARKABLE AUDIENCE FOR THE PERFORMING ARTS IN THIS SMALL TOWN. DO A SHOW OR A WORKSHOP OF ANY SORT AND PEOPLE WILL COME - AND THEY WILL GIVE FEEDBACK.
THE COST IS $200/WEEK CANADIAN PLUS $50/WEEK PER PERSON
CALL 416-920-7463 OR
EMAIL
rglynn@interlog.com
WEB SITE www.granvilleferrystudio.ns.ca