Mountview Alternative Public School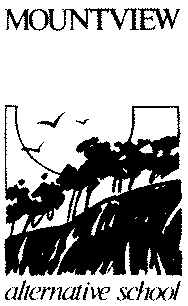 Mountview Alternative Public School
Mountview Alternative is a Public School which follows Toronto Board and Ministry Guidelines, Benchmark Policy and common curriculum.
NO FEES ARE REQUIRED.
Mountview Alternative School is committed to:
producing capable graduates
encouraging parental involvement
stimulating a co-operative approach to school and community
balancing the rights of teachers, parents and students
involving parents in curriculum development
remaining open to new ideas and new approaches to learning
Parents are expected to participate, for example:
by helping in the classroom (mini lessons, clean up, reading and math, photocopying and collating for teachers, classroom theme decoration, etc.)
by serving...
by assisting...
by sharing...
Classroom organization and curriculum:
we believe in nulti-grade grouping
our teachers use a thematic approach to learning
parents participate as classroom volunteers and as curriculum planners
tea, teaching and resource-based learning are encouraged
children draw on their own experiences and interests to acquire skills
Mountview Alternative offers a full range of learning opportunities:
French - Grade 4-6
gym - all grades
swimming - all grades
library - all grades
field trips and mini trips
music program - including recorder instruction and choir
environmental awareness
in-class computers
Mountview is an inclusive community:
Supervised lunch program
daycare facility on the premises
after school programs such as art and French
School teams such as swimming, hockey and baseball
monthly newsletter
regular general meetings of parents and teachers
unlimited parent access to classrooms
parent and family social events
If you want to be involved in your child's education, join us at Mountview