# DM30A Miniature Dome Cameras
---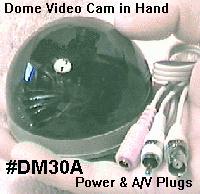 ©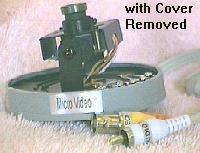 ©
---
Small & Simple Surveillance - Real time video signals (& audio if needed) that can be connected to a monitor and/or VCR. ---- Adjustable Viewing direction.
---
This is real KISS - "keep it simple surveillance!"
- Operates with any 9 or 12 Volts D.C. power supply.
It's only 3 - 1/2 inches wide. Simple to mount anywhere!

---
Featuring B/W Video camera using top quality low power consumption SHARP Japanese microchips ! Camera can be adjusted & fixed in any direction. Smoke colored cover makes it difficult to tell what direction the Camera is aimed - a real deterrent to criminal activity!

---
* Custom Wireless video transmitter options are available.
---
Home Page || Top of Page || Requests
©