Micro Video Products "MV324-AE"
Video Surveillance over ordinary Phone Lines - at Home, Business or Industry
The MV324AE is a multipurpose video Surveillance platform using Plain Old Telephone line connections.
A non-stop watchdog for your precious property.

For Example:
- Connect 4 video cameras (even miniature "covert" ones) to the MV324AE, connect it to the local phone line -

Then, from any plain phone jack in the world - you will be capable of remote surveillance - OBSERVE the front door , the back door, the cash register & the loading dock, the kids or the backyard - all through one phone line!!

The advanced architecture of the MV324AE implements four independent video input channels.
This allows some amazing cost-effective solution for observation, surveillance or monitoring of remote locations.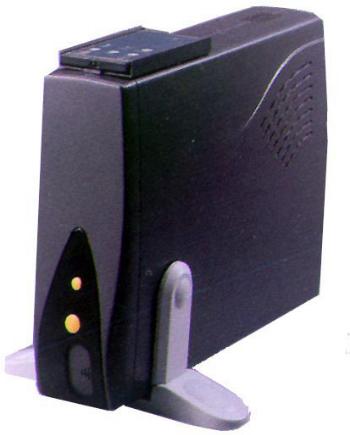 Highlights:
Four Video Sources Selectable
H.324 International Standard Compliant
Simple Installation and Easy Operation
Single key operation for connection establishment
Full Screen Display Capability on TV or PC monitor
Auto Answering and Password Support
Infrared Remote Control (Option) Capability
Selectable Mic./Line input
2 pairs DI/DO open/close pins for surveillance applications
Digital pan/tilt/zoom function
Store latest configuration in built-in flash memory
Built-in 33.6Kbps high-speed modem
Up to 15 frames per second video display
Standing /Lie down /wall mount capable
Specifications - Complies with ITU - T H.324 standard


System: ITU-T H.324
Signaling: H.245
Channel Multiplexer: H.223
Video
Resolution: (352 x 288 pixels) FCIF images, (176 x 144 pixels) QCIF images, (128 x 96 pixels) SQCIF images
Frame Rate (SQCIF mode max): 15fps
Video input: Up to 4 Analog (composite) video inputs (ie. four external cameras)
Video output: Composite (NTSC/PAL) A/V, or VGA

Audio
Algorithm: ITU-T G.723
Frequency response: 50HZ - 3.4KHZ
Automatic gain control
Audio input: Telephone handset, Mic input, Line in
Audio output: Telephone handset, Speaker out, Line out
Network Interface

Phone Line Connector: RJ-11 (a regular telephone jack)
Transmission speed (Max.): 33.6Kbps - modem bult-in
Diagnostic: LED indication on card, Self test

Micro Video (TM) Products
One Mill Line Road
Bobcaygeon, Ontario
Canada K0M 1A0
Phone: (705) 738-1755 Fax: 738-5484
http://www.microvideo.ca
---
Home Page || Top of Page || Requests
©