Miniature Video Camera with Audio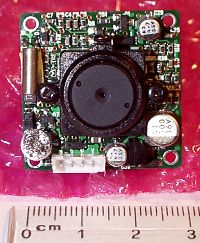 ©
---
This is " NOT" a CMOS device - this is a real CCD - there is a big difference in capabilities!
---
Build your own miniature A/V sensor system Great for Robotics, Modellers - Helicopters, Ballons, Trains, Cars

Industrial Inspection, Machinery Operation Monitors
Only 1.2" (30 mm. square) - about the size of a postage stamp.

Incredibly efficient miniature A/V sensors with a bargain price structure.
0.1 lux, 420 TV lines
Pinhole and regular lens available
Use this tiny B & W camera to build your own A/V system at a very reasonable price.
Easy connection. Two wires connect to the RCA video in jacks of your VCR, modulator or monitor TV. Two wires connect to a 9-12VDC power supply or battery (not included). Power requirement is only 100ma.
Pinhole version sees through a hole about the size of a pinhead. Regular lens version has slightly better clarity and sensitivity than pinhole version.
This is one of the smallest and best performing board cameras you can buy, just compare the specs!
---

Micro Video (TM) Products

---
| | |
| --- | --- |
| MV30AP ......... (micro cam w/ audio & pinhole lens) | $99 US |
Home Page || Top of Page || Requests
©