Wireless Video & Audio Link
- 2.4 Ghz. Band
---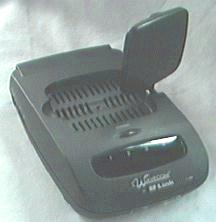 ©
---
YES - You can remotely monitor a room without wires. - and get real time surveillance video that can be connected to a monitor, VCR or TV.
---
Included is a transmitter with 4 different selectable frequencies in the 2.4 Ghz band. Hook up any of our micro cams - like our MVC 120P or MVC058P pinhole videocams (or any video source) to the transmitter's inputs and set up the Receiver at a remote Location. In minutes, you've got a Wireless Observation System with amazing possibilities!

This plug-n-play system has 2 1/2" square Patch Antennas on both the Transmitter & Receiver that can be adjusted for maximum reception distance. Up to 300 ft. is possible with this FM System - and you can change frequencies with the push of a button! Remember it uses the very special 2.4 Ghz (thats 2.4 Billion cycles per second) ISM Band. This is an amazing performer at this low price.
---
| | |
| --- | --- |
| MV24-4 Wireless Video Link ... | $139 US |
Home Page || Top of Page || Requests

©