OUTDOOR Ruggedized version of
Wireless Video & Audio Link - Pro Series
- 2.4 Ghz. Band
---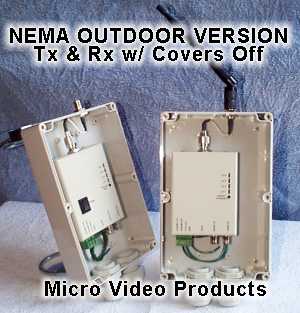 ---
Here's the PRO Series of transceivers with OUTDOOR Enclosures & Brackets - ready to go!!
Get real time surveillance video that can be connected to a monitor, VCR or TV.
---
Included is a transmitter with 4 different selectable frequencies in the 2.4 Ghz band. Hook up any of our micro cams - like our Bullet Cams Outdoor Cams series (or any video source) to the transmitter's inputs and set up the Receiver at a remote Location. In minutes, you've got a Wireless Observation System with amazing possibilities!
---
Wireless video package offers 4 non-interfering user-selectable channels, 2 external user-defined alarm inputs on transmitter, 1 Amp receiver alarm output, Low power standby mode.
Remarkable range - maximum range with "rubber ducky" type transmitter antenna is well over a mile with a clear no Loss Line of Sight & using a 14dB Patch Antenna (Accessory) on the Receiver.
Code protected signal, Full-color NTSC/PAL compatible video, Low power operation, Win95 interface control, Audio transmission.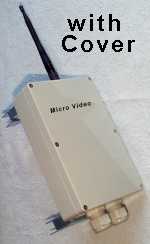 ©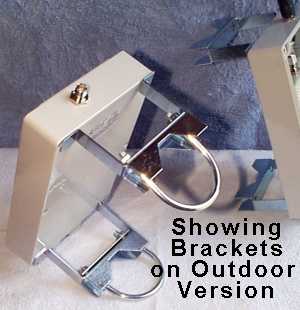 ©

This professional system has various options including Patch Antennas for the Receiver that can be used for maximum reception distance. Video & audio transmission to several thousand ft. is possible with the basic Pro FM System - and you can change frequencies with the push of a button!
Has Computer Control Interface Capabilities. Also has Alarm Capabilities.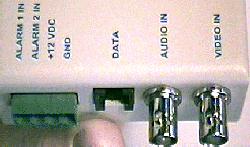 ©
---
| | |
| --- | --- |
| MV-2400-NEMA OUTDOOR Wireless Video Basic System ... | $895 USD |
---
INDOOR VERSION available
- 2.4 Ghz. Band see.. Indoor Version
---
Home Page || Top of Page || Requests

©